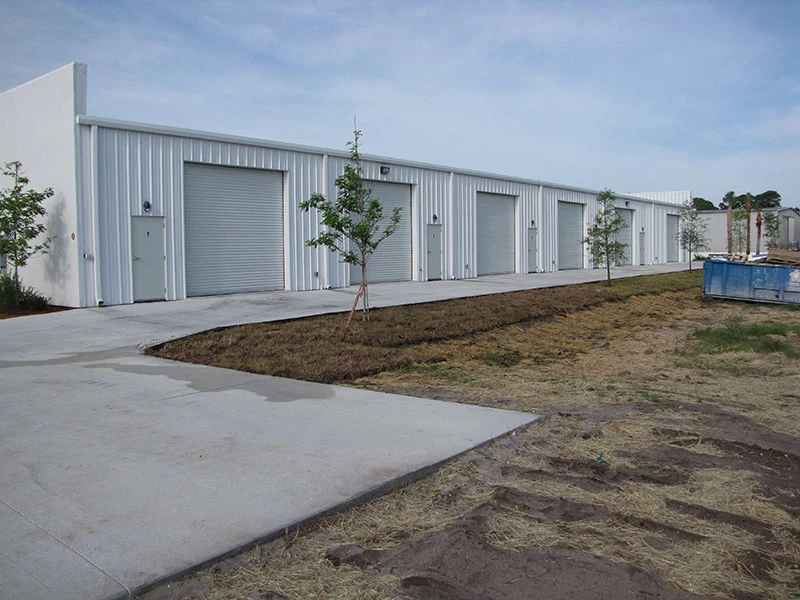 Need More Storage Fast?
With populations growing and spaces shrinking, the need for offsite or nearby storage is soaring. People have never had so many things and so little space to store them. Whether it be off-season sporting goods, business inventory, or home goods stored during a move, mini storage units are a great way to keep things organized and close by. Our prefabricated metal mini-storage buildings can be assembled in minimal time so you can get to storing sooner.


A Durable and Customizable Metal Building
Champion Buildings offers high-quality self-storage buildings that can be used for a variety of purposes. Whether you need a place to store inventory for your business or you're looking for extra space to store household items, our mini-storage buildings are the perfect solution. Our buildings are made from high-quality materials and construction techniques, so you can be confident that your belongings will be safe and secure. And because we offer a wide range of sizes, styles, and colors, you're sure to find a mini storage building that's just right for your needs. 
Hundreds of Happy Customers
Our durable, customizable metal mini storage buildings are currently serving customers all offer the southeast. Take a look at what some of our happy customers have to say:
"THANK YOU! THANK YOU! I recently needed a new steel metal building for my business and found Champion Buildings online. I'm so glad I gave them a call. Not only did they help me with a brand new metal building, but the pre-engineered metal withstood the weather including hurricane force winds and snow this past year. I'd highly recommend them!"

"My parents needed a space to store their RV in the off season to protect it from the elements. They originally looked at getting a carport built onto the side of their house, but then did some research on pre-fab metal buildings and decided that would be a better option. Champion helped them figure out all the options and was able to build the new garage before the first snow. The offset building behind the house looks so much better than an addition would have and was able to connect to the paved driveway so no more ruts all over the backyard from camper tires."

Prefabricated Mini Storage Buildings – Simpler and Faster
There are many benefits to choosing a prefabricated mini-storage building over a traditional storage unit. For one, prefabricated mini-storage buildings are typically made out of high-quality materials that can withstand the elements. This is important because it means that your belongings will be better protected from the elements, and you won't have to worry about them getting damaged by weather or pests.
Additionally, prefabricated mini-storage buildings are usually easier to assemble than traditional storage units. This is because the parts of the building are all pre-cut and ready to be put together, so you won't have to waste time cutting lumber or drilling holes. These factors make prefabricated mini-storage buildings an ideal choice for those who need extra storage space.
Benefits Of Mini Storage Units
There are several benefits when it comes to utilizing our stylish, durable mini-storage units when things become cramped. A few examples include:
Fast and painless storage
Less cramped and improved feel, functionality, safety, and ventilation of your area
Painless organization of stored items
Secure and completely safe storage
Steel Storage Buildings Are Easy To Maintain
Maintaining your metal building is easy and inexpensive. Steel is a durable material that can withstand the elements without rusting or rotting. Additionally, steel buildings are typically made with few external seams, which helps to prevent moisture and pests from entering the building. Finally, steel buildings are easy to clean and can be pressure-washed or cleaned with a power washer.
As a result, steel storage buildings require minimal maintenance and can provide years of trouble-free service. For these reasons, steel storage buildings are an excellent choice for those in need of extra storage space. Feel free to visit our frequently asked questions page to learn more about how we can satisfy your storage needs. Our mini storage units are offered in numerous color selections including crimson red, fern green, saddle tan, and more!
Mini Storage Building Cost
The cost of mini-storage buildings can vary depending on a number of factors, including the size and type of building you choose. Metal mini-storage buildings are a popular choice for many storage needs, as they are durable and offer a wide range of sizes. The cost of a metal mini-storage building will depend on the size of the building and the type of metal used. For example, steel mini-storage buildings may be more expensive than aluminum mini-storage buildings. However, steel mini-storage buildings will last longer and be more resistant to weathering and damage. When considering mini-storage building costs, it is important to factor in the long-term value of the investment.
---
Contact Us Today for Mini Storage Buildings!
Are you looking for a cost-efficient solution for your storage needs? We pride ourselves in providing the best quality metal buildings at a competitive price. We provide metal buildings for agricultural, commercial, and residential purposes. For more information or to purchase your metal storage building, contact us today!