As people look for durable, sustainable structures to protect their vehicles and/or heavy machinery, more and more people are choosing metal garages. The weather in NC can be unpredictable and cars and machinery need protection from hurricanes, snow, heat, and other outdoor hazards.  Metal garages are able to provide the heavy protection you need with huge benefits that other building materials can't provide.
Overcome Storage Challenges with Metal Garage Buildings
Metal garages are incredibly advantageous for storage. Not only are metal buildings durable and strong, but you can also customize the size of the building to fit your exact needs. This means that if there is a new piece of equipment or vehicle that needs to be stored in the garage, you can easily enlarge it to meet your needs. With steel buildings, you don't have to worry about any added structural costs associated with wood buildings. 
---
Contact Champion Buildings for Metal Garages
---
Benefits of a Prefab Metal Garage in North Carolina
When it comes to prefab metal garage buildings there are a wide variety of different benefits.  We strongly believe that metal garage buildings offer benefits that other garage building materials such as wood or brick don't offer.  If you are looking for a customizable garage design that will be able to keep your valuables safe then a metal garage is a great option.
Metal Garage Buildings Are More Cost Effective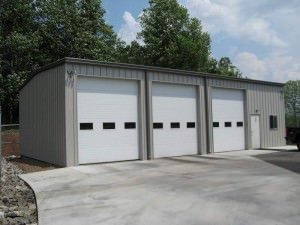 Metal garages are considered to be much cheaper to build compared to other garage building materials because of cheaper material costs but also because of the number of man-hours required to erect a metal building.  When you are working with materials such as wood or brick to build a garage it is more expensive because the materials are more expensive but also because they require more than double the amount of man hours to build.  Building your garage out of metal allows us to provide you with a quicker building process which saves you money on the number of man-hours required.
Our Metal Garages Are Completely Customizable
It is important to build a garage that perfectly fits your needs and requirements.  Fortunately, our team provides metal garages in a variety of different existing designs as well as offers customizations to better provide our customers with the best possible result.  We are able to provide our customers with two-car metal garages, garages for RVs, single-car garages, as well as a wide variety of other designs.  We would love to talk to you about the needs of your garage design and how we can help provide you with a metal garage that you will love.  Please send us a message on our contact page.
Metal Garages Are Easy To Maintain
In North Carolina, it is important to have a garage that is easy to maintain because of the amount of rain and severe weather that we get every year.  This makes a metal garage a great choice as it offers great protection without the hassle of having to maintain it.  If your metal garage ever gets dirty it is as easy as using a garden hose to gently clean it.  With other building material such as wood, you have to be careful to protect the material from water so mold doesn't develop.  A metal structure will protect you from having to worry about mold development, termites, water damage, or other issues.
Metal Buildings Provide You With The Protection and Strength You Need
North Carolina has its fair share of bad weather every year which makes it important to be able to provide your valuable items with outstanding protection.  Our metal garages are as strong as they come.  With the strength required to withstand over 200 mph of wind, you can rest easy even when the tough weather comes rolling in.  A metal structure will provide you with the protection that you need to protect your cars, RVs, or other valuables that you store in your garage.
Options for Metal Garages in NC
If you choose a standard option, you'll pick one of our pre-designed selections: a one-car garage, a two-car garage, a carport, or even a garage-workshop space. If you need a custom-designed metal garage, our team can create a plan for your metal building to suit your needs and budget. This includes:
A garage for several vehicles
Storage for large or uncommon vehicles, like RVs
Even hangars for small planes!
With years of experience, we understand what it takes to customize and build a metal garage that our customers love.  To learn more about the different customization options we provide or more about metal garages in general, please give us a call at (800) 942-6812
Metal Garages FAQs
How Much Does A Metal Garage Cost?
Metal garages come with a variety of great benefits but one of the most well-known benefits for the consumer is how much cheaper metal garages are compared to other materials.  The metal used for metal garages are cheaper compared to other material such as wood or brick but they are also much quicker to assemble which means they require fewer man hours to assemble.  It can be difficult to give an exact estimate on how much your metal garage project would cost because of the different sizes and dimensions but we believe a metal garage would offer you better value compared to garages made with other materials.  For a more exact estimate about the cost of the metal garage you have in mind please give us a call at (800) 942-6812
Can You Build A Taller Garage For RVs?
Yes!  If you have a recreational vehicle it is important to provide it with protection you can count on.  Our trained team of professionals has years of experience building metal garages that are taller compared to an average garage in order to comfortably fit RVs inside.  It is important that your structure is specifically built for the dimensions of your RV.
What Is The Difference Between A Carport And A Garage?
A metal garage and a metal carport are both great options when it comes to protecting your vehicles or other valuables.  Typically a garage is considered to be a fully enclosed structure with a large door for moving vehicles in and out of.  While a carport is typically considered to be a parking space with a built-in roof above it but with open sides.  Garages and carports come in a variety of different sizes and dimensions which make them great options to protect your vehicles.  Garages can be better for giving your vehicles or property better protection against the elements while a carport can give your vehicle added protection without having to build a complete surround structure.
What Is The Typical Size Of A Metal Garage?
Metal garages can be built in a variety of different shapes and sizes.  Our team will work with you to figure out what your needs are and help customize a garage that would work best for you.  For some customers, this will be a 2-car metal garage, while other customers will need a taller garage to fit RVs.  With experience building metal garages as well as metal airplane hangers, we have seen garages in a variety of different sizes.  An average 2-car metal garage is typically 24×24 feet or 24×30 feet, but there are a variety of different variables that can influence the size and shape of your garage.
What Is The Life Expectancy For Metal Garages?
Metal garages are known for being a low-maintenance option compared to other building materials but they also will typically have a longer life expectancy compared to garages built with other materials.  The metal used in these garage builds is incredibly compact and durable.  It is hard to give an exact life expectancy for metal garages because there are a variety of different variables that will impact the life expectancy such as weather conditions or installation process.  But with proper installation and light maintenance work, you can expect to see your metal garage last for at least 20 – 30 years.
Contact Champion Buildings
If you're interested in a prefabricated metal garage in NC, make Champion Buildings your #1 choice. For more information or to purchase your metal garage contact us by visiting our contact us page or calling us by pressing the button below.