Metal Building Erection Services
Unlike our counterparts, Champion Buildings, Inc. provides you with an all-in-one solution for your metal building needs. This means that we are here to help our customers from start to finish.  Our team of trained professionals have years of experience with steel building erection projects as well as a variety of other metal building construction projects to provide you with the best possible service.
The Metal Building Construction Process
From the concrete foundation to erection of your new metal building, Champion Buildings handles the entire prefabricated building process from start to finish. We'll help you plan, customize, and erect a steel building that will fill all of your requirements.  Wondering what it's like when you order a building with us? Here is the steel building construction process:
1. Choose The Type of Steel Building You Need Constructed 
The first step in your prefabricated metal building is choosing the type of building you need and the correct dimensions. We offer a wide variety of sizes and building types, from mini storage buildings to aircraft hangars and everything in between.  It is important to find a base building floor plan that will fit your needs.  This is typically just thought of as a framework because our team of professionals have experience with customizing frameworks to better provide for our customers.  Our team will help you brainstorm and plan for a framework that will fit your needs as well as fit correctly with your land.  If you're unsure what size building will fit on your land or have questions about our different buildings, give us a call!

2. Customize Your Prefab Steel Structure
Once you've chosen the type of building you need, we'll give you the opportunity to customize your building with insulation, doors, windows, gutters, paint, and more.  This is the step in the construction process where we attempt to hash out all of the requirements you need for your manufactured building as well what the building will be used for.  Each metal building erection project has different requirements which will alter the cost to erect the steel building.  We want your building to be exactly the way you need it.
3. We Manufacture The Building Materials For Your Metal Building
Now it's our turn to get to work! With your specifications, we build the parts that will make up your metal building. This will include manufacturing the base of the steel structure, the frame system, the trims, the accessories, and other pieces carefully to ensure everything we need to construct your building is ready to be put together.  Our team does multiple rounds of inspections in order to insure than the building material for your steel building are in perfect condition.
4. Our Team Visits the Lot and Lays the Concrete Foundation
Before constructing your building, we'll ensure your land is level and lay the concrete foundation. The foundation is important because a structure is only as strong as its foundation.  If the foundation is weak, then the structure will likely collapse.  By analyzing the surface level and laying concrete we provide our buildings with a strong foundation to help your building withstand even the strongest of storms.  The concrete foundation will consist of pier pads beneath each column, a perimeter footer, 4″ gravel or sand, wire, rebar, plastic, anchor bolts and a slab thickness per your specifications (typically 4″ – 6″).
5. Our Team Begin The Prefab Metal Construction Process
When the concrete foundation has been poured and has had time to dry, we'll construct your new metal building to the specifications our team developed. Our crew will arrive with the components on a large flatbed truck and with all the tools we need to construct your building.  Building steel manufactured buildings are known for how quickly they can be erected compared to other building materials.  With years of experience building a variety of steel structures, our team will work efficiently and diligently to provide you with a steel building that you absolutely love.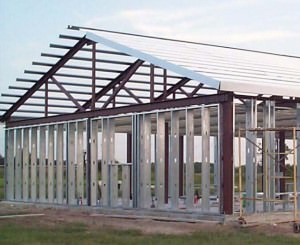 Steel Building Erection Service FAQ's
How Long Does It Take To Erect A Steel Building?
Each steel building erection project is different based on the location, the kind of building, and the size of the building.  It can be difficult to give an exact estimate on how long it takes to erect a steel building because of the variety of different variables.  A smaller building will be easier and quicker to erect but a larger steel building will take a larger team and more man hours to erect.  For a more accurate estimate as well as more information on the services we provide please give us a call at (800) 942-6812
How Are Steel Frame Buildings Constructed?
Depending on the project, a variety of different building techniques can be used to construct steel frame buildings.  Typically a building technique called skeleton frames are used to build most steel structures.  Skeleton frames is a building technique to get a framework for the building created out of vertical steel columns and horizontal beams.  This provides steel frame buildings with an incredibly strong framework that is a great option for a variety of different building types.
How Much Do Steel Buildings Cost?
It can be difficult to give an exact price estimate to erect a steel building without having an understanding of the project as a whole.  The price will vary depending on the location of the project, the size of the building, the material required for the project, as well as the man hours required for the building.  If you would like a more accurate price estimate as well as to learn more about the services we provide please give us a call at (800) 942-6812
Is A Concrete Foundation Required For Steel Buildings?
For the majority of steel building projects it is required to lay a concrete foundation before the building process can take place.  It is vital to lay the ground and make sure the surface is solid and flat in order to support the weight of the steel building.  Our team of experts will use their years of experience to evaluate the surface of your land in order to start the building process in the best possible way.  
What Kind Of Steel Building Can Be Created?
Our team offers a wide variety of different steel building types.  We have experience erecting small steel storage building as well as large steel aircraft hangers to everything in between.  We will be able to provide you with the exact building that fit your needs.  Give us a call or fill out our contact form to figure out what type of steel building that will work best for you.
What Are The Benefits of Steel Buildings?
Erecting a steel building comes with a variety of great benefits.  The first benefit being the price.  It is much cheaper to erect a steel building compared to other material as the material is cheaper but it is a quicker process so it requires less man hours to erect.  Along with it a cheaper price, steel buildings are much easier to maintain compared to other building materials such as wood.  Steel is waterproof and easy to clean so it is considered a low maintenance building material.
Are Steel Buildings Cheaper Than Wood Buildings?
Yes.  Steel is much cheaper than wood when it comes to erecting a building.  It is thought that steel is roughly half the price of wood and is much easier to erect so it will take roughly half as many man hours to erect.  Utilizing steel instead of wood can save you money and time to get a structure that is easier to maintain compared to wood.
---
Get Your Metal Building Constructed Today!
We pride ourselves in constructing high quality metal buildings that will exceed your expectations. Champion Buildings firmly believes in erecting quality, cost-efficient steel and metal buildings for commercial, and agricultural purposes. For more information or to purchase your metal building, contact us today!