Metal Building Erection Services
Unlike our counterparts, Champion Buildings, Inc. provides you with an all-in-one solution for your metal building needs. This means that we are here to help our customers from start to finish.
The Metal Building Construction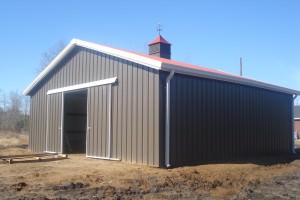 When you purchase a metal building from Champion Buildings, Inc. you can expect the best service and the highest quality product. Our fully insured, professional crews will arrive at the job site to unload your building from the delivery truck. The crew will take inventory to ensure that all components and accessories purchased are accounted for. All necessary equipment required for erection is provided by the crew. The customer's only responsibility is to provide a power service or a generator.
The crew will know exactly how to erect your metal building because they will have the engineered drawing specifications. This ensures that the building will be exactly how you want. Also, our team will ensure that your building is erected correctly and to the highest standards.
When you purchase a steel or metal building from Champion Buildings, Inc. you not only get an affordable and efficient building, but you will also get a one-year workmanship guarantee to ensure that your building is up to your standards.
---
Contact Champion Buildings
Are you interested in getting a prefabricated metal building? For more information or to purchase your metal building contact Champion Buildings by visiting our contact us page or calling us by pressing the button below.