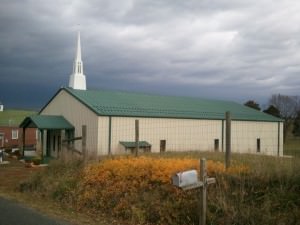 Champion Buildings has provided congregations with churches that suite their needs and budget. Steel churches are less expensive than wood-based buildings due to the materials used as well as the lack of architect fees. At Champion Buildings, we can customize these prefabricated building designs to fit your congregations current and future needs. Having a metal building allows for easy expansion in the future, so you can keep up with the growing number of members.
Options for Your Pre-Engineered Metal Church Building
If you are unsure about the layout or design you want, you can work with a member of our team to help you create an effective floor plan for your metal church building. This floor plan may include a greeting area, classrooms, offices, bathrooms, a large sanctuary area, dining and kitchen spaces, and possibly a portico. If you want it, we can do it!
Why Choose a Prefabricated Steel Church Building?
Prefabricated steel buildings provide a high-quality, durable, and easy maintenance at an affordable price. These buildings are made to endure high-speed winds, hurricanes, earthquakes, and other extreme weather conditions. While many people are resistant to using a metal building for their church, as they believe they are too warehouse-y, you can create a metal building that mimics the more traditional elements of a church. For example, the use of bricks, masonry, wood siding, or even stained glass windows.
Here is a list of reasons why you should consider a steel church building for your congregation:
Cost savings
Environmentally friendly
Insurance advantages
Fireproof
High strength to metal ratio
Energy efficient
Flexibility
Contact Champion Buildings To Get Started on Your Pre-Engineered Metal Church Building!
For more information about metal church buildings, contact Champion Buildings at (800) 942-6812. We can help you with design, layout, accessories, and options. Regardless of whether you are ready to buy a metal building or you are just looking for more information, let Champion Buildings help you get the information you need. Providing quality metal buildings at an affordable price to the Southeast: North Carolina, South Carolina, Alabama, Georgia, Florida, Maryland, Ohio, Tennessee, Virginia, and West Virginia.