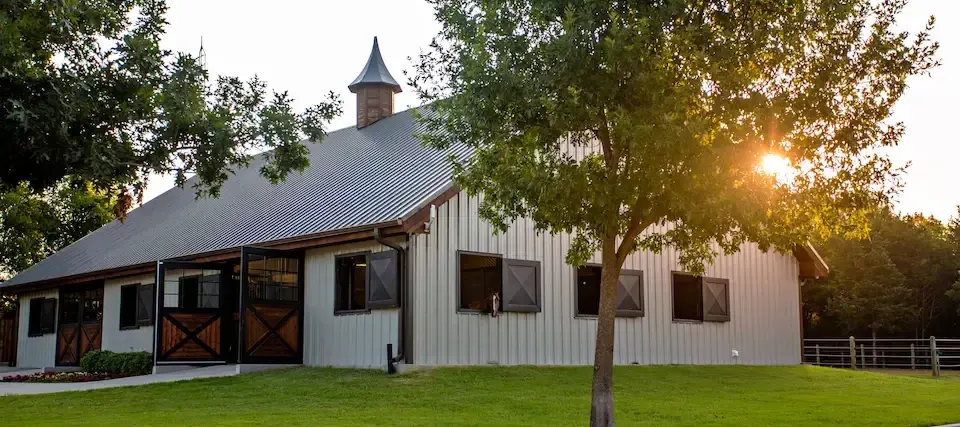 Metal horse barns have great advantages and are an ideal and safe way to house horses. But not all metal barns are made the same. When you choose a metal horse barn from Champion Buildings, you can count on a building that is durable and provides premium protection for your horses.
Prefabricated Metal Horse Barns By Champion Buildings
Prefabricated metal horse barns by Champion Buildings are a smart option when compared to traditional wood or brick residential buildings. There are several benefits to adding this custom metal building to your property.
Benefits Of A Prefab Steel Horse Barn
Customizable Interior Layout
At Champion Buildings, we know that no two customers have the same needs. This is why we offer customizable options. We allow our customers to choose their dream building so that their animals will be comfortable and safe.
Cost Effective And Durable
Steel barns are a smart choice because they are easily customizable. As long as you have the space on your property, you can add to the barn easily. A metal horse barn is also more cost-effective when compared to barns made of wood.
Custom metal barns are also made with the highest quality materials that can withstand the elements like heavy winds and rain. Unlike traditional wooden barns, they won't rot, crack, or be welcoming to any critters. Metal buildings are also not flammable which helps to minimize any possible damage due to fires.
Premium Protection For Your Horses
A metal barn offers the best protection for your horses. They will be guarded against the elements as well as any other livestock on your property. Be sure to ask about our customization options so that you can get a metal barn that suits all of your needs.
Popular Steel Horse Barn Arrangements
If you are not sure what type of steel horse barn would best suit your needs, check out these popular choices:
Small Metal Horse Barns
A small metal horse barn can be in the size range of 20'x46′ to comfortably stable one, possibly two horses. You may even have extra space for equipment.
2 Stall Metal Horse Barns
A 2-stall metal horse barn can be in the range of a 36×21 size building that can comfortably accommodate two or three horses.
4 Stall Steel Barns
Typically, 4-still steel barns are more square-shaped in their footprint, with plenty of square footage for four horses. These types of barns are usually around 36×36 in size.
Steel Barn Roof Styles
Besides the size of the barn itself, it's also important to consider the type of roof style for your metal barn.
Regular Roof
A regular roof style is typically the most economical. It comes with horizontal paneling. This type of roof is recommended for areas that have moderate weather conditions.
A-Frame Roof
An A-frame roof is also known as a "boxed-eave" style. It also has horizontal panels. This roof looks like a house roof and is typically less expensive than a vertical roof because it doesn't have hat-channel pieces. This type of roof can sustain heavy winds, but usually not much rain.
Vertical Roof
A vertical roof style is recommended for areas that have moderate to severe weather conditions. A vertical roof is made from vertical paneling, a hat channel, and ridge caps.
Contact Champion Buildings For All Of Your Steel Barn Needs
Champion Buildings can provide prefabricated metal horse barns and more! We are your source for durable metal buildings at affordable prices. Let us show you why a metal agriculture building is the best choice to save money when you're looking for cost-efficient buildings on the farm.
We offer service in:
Whether you need a metal horse barn or another type of steel barn, call Champion Buildings. We are your source for a sturdy structure that meets your specific needs.
You can count on Champion Buildings to use the best materials and to stand by their products. Call us today or fill out the form below for additional information about how we can create the perfect environment for your horses with one of our horse barns.