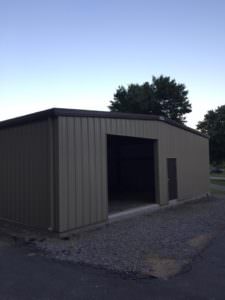 Do you have self-storage, mini storage, or mini-warehouse needs?  We offer safe, convenient, and cost-effective mini-warehouse options for all of your private belongings. We use durable and proven metal building components to ensure 100% satisfaction and security. 
Choosing a Prefabricated Mini Storage Building
Pre-engineered storage units are an ideal selection for your storage needs, as they offer security and affordability. These buildings are cost-effective due to the fact that all of the parts and pieces are pre-made to fit together. This reduces the amount of time it takes to construct the building, which reduces your overall costs.
Benefits Of Mini Storage Units
There are several benefits when it comes to utilizing our stylish, durable mini storage units when things become cramped. A few examples include:
Fast and painless storage
Less cramped and improved feel, functionality, safety, and ventilation of your area
Painless organization of stored items
Secure and completely safe storage
Steel Storage Buildings Are Easy To Maintain
Maintaining your metal building is easy and inexpensive. You should plan to inspect the metal building twice a year, in the fall and spring. During the inspections, or in your daily use, if you notice any damages, you should repair them immediately. For example, if you notice a scratch, you should prime and paint it immediately to prevent rusting. From here, you will want to wash your metal building with a pressure washer on low to remove any dirt and soot off to prevent stains. Feel free to visit our frequently asked questions page to learn more about how we can satisfy your storage needs. Our mini storage units are offered in numerous color selections including crimson red, fern green, saddle tan, and more!
---
Contact Us Today for Mini Storage Buildings!
Are you looking for a cost-efficient solution for your storage needs? We pride ourselves in providing the best quality metal buildings at a competitive price. We provide metal buildings for agricultural, commercial, and residential purposes. For more information or to purchase your metal storage building, contact us today!