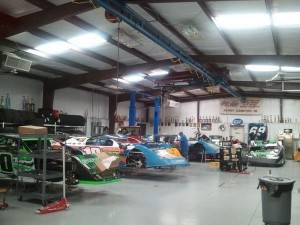 With used vehicles becoming more popular and people keeping their vehicles for longer periods of time, auto repair shops are gaining new business and may need to expand their current shop or open a brand new location. When building a new auto shop or mechanic garage, time is crucial. Business owners want to open the location fast and start maximizing their ROI (Return on Investment). This leads to many auto shop owners turning to metal shop buildings as their preferred option.
A Pre-Engineered Metal Building for Your Auto Shop or Garage
There are many reasons to choose a metal building for your auto repair business. For example, with a metal shop building you can have open floor plans, that allow you to efficiently utilize your space and they provide greater overhead clearance, which is crucial for fitting in your equipment and cars.
Our metal shop buildings have the added benefits of being quick and easy to construct. They are also built to last, with steel being very resilient to fire, wind, snow, mold etc. Ongoing they require little to no maintenance. We do have color options for your metal shop building so you can choose a style you want, and this also helps to prevent rusting. 
Let Champion Buildings Do the Work for You!
While many prefabricated metal building companies just ship the kit and erect the building, at Champion Buildings, we offer an all-in-one solution, to include the concrete slab. The concrete crew will provide a slab per the specifications outlined in the engineer sealed foundation drawings provided.  The concrete foundation will consist of pier pads beneath each column, a perimeter footer, 4″ gravel or sand, wire, rebar, plastic, anchor bolts and a slab thickness per your specifications (typically 4″ – 6″). With a strong, stable concrete foundation your metal building will last much longer.
Erecting Your Auto Shop Metal Building
The Champion Buildings, Inc. crew will unload and erect the building from the frame to windows, doors, and insulation. The metal building parts will be very heavy and will be transported on a large flatbed truck. They provide their own equipment and tools. Erection of the building comes with a 1-year workmanship guarantee.   *All crews are insured.
Steel and Metal Building Specials by Champion Buildings
***Package Specials Available in MD, VA, WV, NC, SC, GA, FL and AL.
Call for package specials in all other states!!!
*Prices good up to 20lb. snow load and 100mph wind load.
* Upcharge for higher loads.
About Our Auto Shop Steel and Metal Buildings
All of our buildings are:
100% Made in the USA, Commercial Grade Steel
Prefabricated with all steel frames
Use high strength bolts
Have optional 24 gauge standing seam roof
ClearSpan (up to 150′)
Available with a variety of metal building accessories
Available with a large color selection from walls, roofs, and trims.
---
Create Your Metal Shop Building Today!
Champion Buildings firmly believes in erecting quality, cost-efficient steel and metal buildings for commercial, agricultural, and personal purposes. For more information or to purchase your metal building, contact us today!