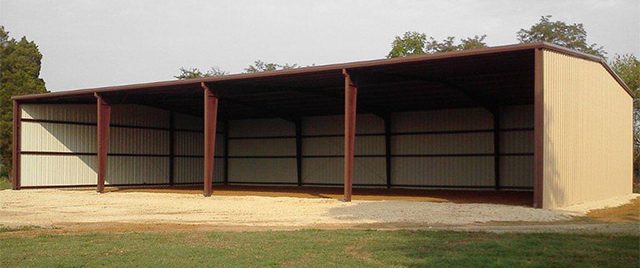 All farmers know the importance of protecting their agricultural equipment, livestock, and other materials. If you are looking for a metal horse barn or metal equestrian facility, Champion Buildings can help! Investing in the protection of your equipment is one of the most important investments you can make. If you want outdoor storage or agricultural building, these prefabricated metal farm buildings will endure the test of time.  A metal farm building will help keep your agriculture equipment safe from the outside weather and conditions.
Farm Storage Building Made Of Steel
An increasing number of farm owners are choosing metal and steel buildings over traditional structures, due to the many benefits they offer.  When you own a farm or an agricultural organization it is important to provide your equipment with the best possible storage facility.  This will help improve the lifespan of the equipment as well as protect the equipment from outside conditions.  Here are a few reasons to consider a steel or metal building for your farm.
Metal Farm Buildings Offer Better Shelter & Protection
It is no surprise that protecting your animals, animal feed, and equipment is essential. Steel is the best material to offer protection, as steel buildings can endure harsh weather and elements. Also, they are fire resistant and you don't have to worry about termites or rotting.  This makes our steel farm storage buildings far superior compared to wood-built farm equipment storage buildings.  When it comes to your expensive farm and agriculture equipment it is important to provide them with the best possible storage building.
Steel Agricultural Buildings Are Low Maintenance
Steel and metal buildings are easy to maintain and clean. Whereas traditional wooden buildings crack, warp, or are taken over by insect infestations. All of these problems make barns prone to leaking and rotting. Also, whereas a traditional wooden barn will need re-painting, steel structures stay beautiful for years to come.  You can trust that your steel farm storage building will last longer in tough weather conditions compared to standard wooden farm equipment storage buildings.  Since they are storage facilities for farm and agriculture equipment it is safe to assume that they will get dirty at some point in time.  With steel buildings, it is easy to spray them clean with a hose, compared to wooden buildings that get stained and begin to rot after hard storms.
Affordable Agricultural Storage Buildings
Metal buildings are more affordable than traditional wooden buildings. This is because lumber, especially depending on the type, can be very expensive. Consider the man hours and labor that is required to build the building. With a metal or steel building, the parts are prefabricated in a steel manufacturing facility. Erecting the building is extremely fast, cutting the construction time by 60-70%.  This makes the entire building and installation process cheaper and more efficient for your farm.
Different Options and Features for Your Metal Farm Building
Many people believe that a steel agricultural building will just be a metal building with no features. Our services offer you a variety of options for your metal farm building. There are insulation options, building styles, windows, different types of doors and roofs, colors, sizes, and more.  With a variety of different options and featured, we can help you build the storage building of your dreams.  This will provide your farm with everything that it needs to protect your farm equipment.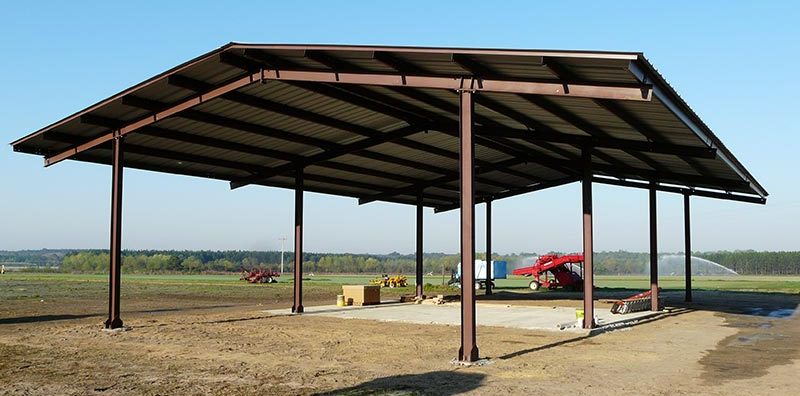 Farm Pole Buildings
When it comes to farm buildings, metal pole construction offers a number of advantages over traditional wood buildings. They are typically more affordable and require less maintenance, as they can withstand harsh weather conditions without rotting or warping. In addition, metal pole buildings often have longer lifespans and can be easily expanded or modified as necessary. Another benefit is that they are fire-resistant, offering added protection for any equipment or livestock housed within the building. Overall, metal pole buildings offer a cost-effective and durable solution for farm storage needs.
Agricultural Building Kits
When it comes to agricultural buildings, metal kits have quickly become a popular choice for farmers and ranchers. Not only are these kits cost-effective and easy to assemble, but they also offer a durable solution for housing livestock or storing equipment. In addition, metal buildings have the added benefit of being fireproof and able to withstand harsh weather conditions. And with customizable options for door placement, insulation, and ventilation systems, metal building kits provide the flexibility to meet any agricultural need. Overall, these kits offer a practical and reliable option for farm owners looking to add or upgrade their buildings.
Steel Farm Building Specials by Champion Buildings
***Package Specials Available in MD, VA, WV, NC, SC, GA, FL, and AL.
Call for package specials in all other states!!!
*Prices good up to 20lb. snow load and 100mph wind load.
* Upcharge for higher loads.
About Our Farm Storage Steel Buildings
All of our buildings are:
100% Made in the USA, Commercial Grade Steel
Prefabricated with all steel frames
Use high-strength bolts
Have optional 24 gauge standing seam roof
ClearSpan (up to 150′)
Available with a variety of metal building accessories
Available with a large color selection from walls, roofs, and trims.
Farm Storage FAQs
What Kind Of Building Is Considered A Farm Storage Building?
Farm storage buildings can technically be any building that is located on an agricultural facility, but typically when speaking of storage buildings we think of prefabricated steel structures as these provide the best results for our clients.  Farm buildings can be built from a variety of different materials such as wood, concrete, brick, or other materials, however, we have found that steel structures are the best option for most projects.  They allow for a cost-effective and quick installation process, but they also provide owners with sturdy and easy-to-maintain storage space.
How Do You Maintain A Farm Storage Building?
The storage buildings on your farm must be carefully looked after as these are protecting the valuable equipment you use to run your farm on a daily basis.  This means if your storage building isn't well cared for then you risk damaging your equipment as well.  If your building is made out of materials such as wood or brick it is important to keep the building clean as excess water or dirt can compromise the integrity of the building.  If your building is made out of steel it is easier to maintain as they are resistant to weather and don't need to be cleaned.
What Material Is The Best For Storage Buildings On Farms?
When you are building a storage building for your farm it is important that you find the best material in order to protect your farming equipment.  Buildings can be created from a variety of other materials such as steel, wood, brick, concrete, or other materials.  When you are trying to find a material that provides you with the best protection as well as the best cost-effective price, steel is typically thought of as the best option.  Steel farm buildings are a great option for farms because they are cost-effective compared to other materials, but they also are strong and don't require much maintenance.
---
Contact Us for A Farm Equipment Storage Building Today!
If you are ready to get started with your farm storage metal building project please give us a call. Champion Buildings firmly believes in erecting quality, cost-efficient commercial metal buildings for all agricultural purposes. For more information or to purchase your steel building kits, contact us today!