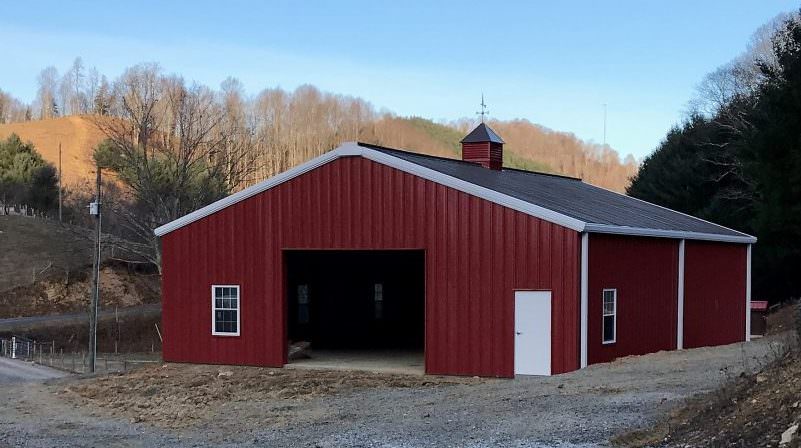 Since 1999, Champion Buildings has been a leading choice for both homeowners and businesses for pre-fabricated steel buildings across the Southeast and Mid-Atlantic. We provide on-site construction of metal buildings in Kentucky. 
---
Request A Free Quote On Our Metal Buildings in Kentucky
---
Why Choose Champion for Your Steel Building Needs?
At Champion, we offer turnkey metal building erection. This means we will work with you to determine the right building for your needs. Whether you are looking for a sturdy, long-lasting building for a garage or home storage or you need an affordable building for a restaurant or retail facility, our experienced customer service team will help you find the best choice for your needs and budget. Once a plan is in place for your steel building, you can leave much of the work to our team. From having your concrete foundation laid and poured to building erection, we offer all-in-one building erection service that's stress-free for our customers. In addition to providing you with top-tier service, you can also feel confident that we use high end materials to make sure your building can withstand years of harsh elements, including sun, rain, and wind. All of our buildings are:
100% Made in the USA using commercial grade steel
Built with high strength bolts
Offered with an optional 24 gauge standing seam roof
Clear Span (up to 150′)
Available with a variety of metal building accessories
Available with a large color selection from walls, roofs, and trims
Our Process for Erecting Metal Buildings in Kentucky
The building process starts with you. First, you'll choose the type of building you want, then go through the customization options for your steel building, including insulation, doors, windows, color options, and more. We'll work with you to determine what requirements you have and how the building will be used to make sure you get exactly what you want. From there, we'll manufacture all the materials necessary to construct your new building, including providing multiple rounds of inspections to ensure that the steel sheeting and all other materials are up to our high standards. Before our build team starts on construction, we make sure the space is level for your foundation, and bring in a concrete crew. Once the foundation is set and properly cured, the construction begins. With our experienced team and a set protocol in place for construction, you can feel confident that your new metal building will be up and ready for your next step quickly and efficiently.
Concrete Foundations for Your Pre-Fabricated Steel Building
A proper concrete foundation is key to the stability and safety of your building. After determining the ground is level, the concrete crew will provide a concrete slab per the specifications outlined in the engineer sealed foundation drawings provided.  The concrete foundation will consist of pier pads beneath each column, a perimeter footer, 4″ gravel or sand, wire, rebar, plastic, anchor bolts and a slab thickness per your specifications (typically 4″ – 6″).
Commercial and Residential Metal Buildings
Our customers come to us to purchase metal buildings used in a wide variety of purposes, including:
Cities We Serve in Kentucky
We deliver and construct steel buildings throughout Kentucky, including the following cities:
Lexington
Richmond
Frankfort
Ashland
London
Pikeville
Contact Us for Pre-Fabricated Metal Buildings in Kentucky!
Are you interested in getting a pre-fabricated metal building for your home or business in Kentucky? Reach out to a member of our team today at (800) 942-6812 or fill out our contact form to get started!