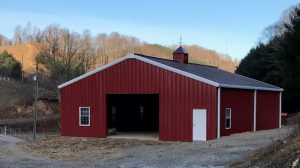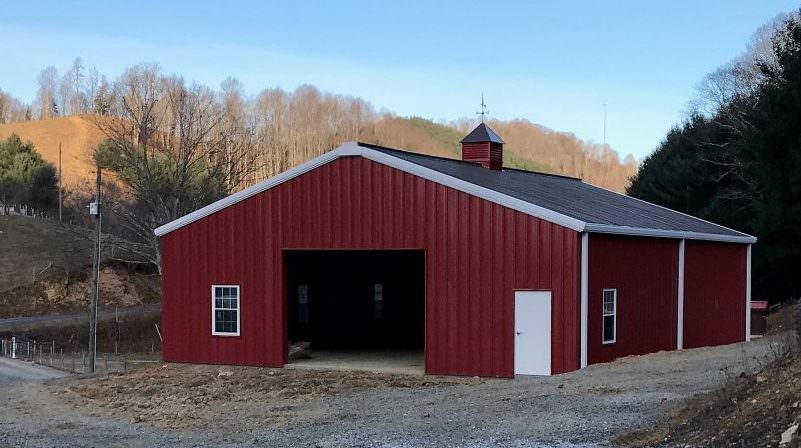 Metal barns are a popular option for people in the agriculture industry because of their durability and low maintenance. If you're thinking about building a metal barn for your horses, livestock, or other kinds of agriculture, contact Champion Buildings.  Our trained professionals will be able to help you decide on what style of barn and what dimensions would be the best option for your needs.
Prefabricated Metal Barns Installation
At Champion Buildings, we offer special services for people who want to build a metal barn. These pre-engineered metal barns can be used for all agricultural needs. Metal barns are a better investment than wood-framed barns because they are resistant to termites and don't rot.  Metal structures are also much more cost effective compared to other materials such as wood because it has cheaper material costs as well as requiring less labor hours to erect.  This means that the overall installation process of a metal barn is more more time effective and cost effective compared to other materials used to build an agricultural barn.
Pre Engineered Barns Built to Suit Your Farming Needs
We are an industry leader in metal barns because we can provide a variety of solutions for your agricultural needs. We have barns that work for equestrians, cattlemen, ranchers, farmers, and more. In fact, wood-framed barns are being replaced by metal barns at a rapid rate. At Champion Buildings, we guarantee to use only top-quality steel that is durable and made to last.
We offer options most well-suited for people in the agriculture business by offering customizable solutions, such as barns without columns in the floor plan. These kinds of barns allow farmers to store large equipment or allow equestrians to create indoor riding arenas. For details on what kind of metal building can suit your needs, contact us at (800) 942-6812.
Build A Solid Foundation For Your Metal Barn Buildings
It is important to have a solid foundation before you plan on erecting your metal barn.  Without a level site or creating a concrete foundation you risk an unstable base for your new barn.  This means it won't last as long and won't be able to provide your equipment with adequate protection.  Our team will be able to evaluate the current health and integrity of your site in order to give a recommendation on what base foundation will be the best option for your land.  The two main options are either laying a concrete foundation to build the barn upon or solidifying the topsoil for the barn to be built upon.
Laying A Concrete Pad Foundation
In some cases it isn't required to have a concrete base for your barn, but it does provide a solid base that will keep your equipment better protected compared to having your metal barn directly on the ground.  Our specially trained crew can create a concrete slab for your metal barn that meets your exact specifications, outlined in the engineer sealed foundation drawings.
These custom-made concrete slabs include:
Pier pads below every column
Perimeter footer
4 inches of gravel or sand
Wire
Rebar
Plastic
Anchor Bolts
Slab thickness you prefer (usually 4 to 6 inches)
Leveling The Ground Before Installation
If you decide that you don't want to lay a concrete foundation, then it is vital to prepare the surface prior to erecting a metal barn or any other type of building.  It is important to have the ground leveled and solid prior to installing your barn or you risk having a faulty foundation.  Our team will analyze the foundation of your ground to make sure that it is firm enough to support the weight as well as the ground being level instead of slopped.  Once the ground is proven solid and flat it is important to keep an eye on any electric wiring or pipes that may be underground in the area.  With the use of high strength anchors we will be able to secure your metal barn firmly into the ground.  Our team will strive to provide our customers with the best experience possible.
Erecting Your Metal Pole Barn
Choosing Champion Buildings to help you build a barn for your agricultural needs, you can guarantee our crew will unload and erect the building completely. We provide our own transportation of materials, our own tools and equipment, and a 1-year guarantee on our workmanship. All members of our crew are also insured.
Steel and Metal Building Specials We Offer
We offer package specials to businesses in the following states:
Maryland
Virginia
West Virginia
North Carolina
South Carolina
Georgia
*Don't see your state on the list? Call us to talk about package specials we can offer you in your state.
Special Circumstances
Prices are good up to 20lb. snow load and 100 mph wind load
We up-charge for higher loads
Metal Barns FAQ's
What Sizes Do Metal Barns Come In?
Each farm is different which means that the amount of equipment they have is different.  Depending on the size of your farm and the amount of equipment on your farm will dictate how large of a barn you need.  Our professionals are able to provide our clients with metal barns in a variety of different shapes and sizes.  We will work with your requirements as well as how much available land you have to come up with the best dimensions for your barn.  For some clients they need a barn with an elevated roof in order to store tall equipment where other clients need more floor space.  This is where our customization process comes in handy.  We will work with you to create a plan that works great for your business.
How Tall Can Metal Barns Be?
If you are storing farm equipment that is tall or would like to have more vertical airspace within your structure it is possible to build a metal barn that is tall but still provides a sturdy foundation.  Our team is able to develop a mockup plan for a steel barn that will fit your requirements.  We have experience building barns that are as tall as 40 or 50 feet as well as years of experience building structures that are only one story, and everywhere in between.  You can trust that our professional team has seen nearly every mockup design available.
What Is The Installation Process Of A Steel Barn?
The process of install and erecting a metal barn begins with finding out the requirements of the client.  This is where we will go over a few of the different styles and dimensions that we offer.  Depending on what type of equipment you are planning on storing will determine the size of the structure required for your land.  Once we have an idea of how large of a structure you are hoping for we can begin to analyze the land to make sure it is prepared for the installation process.  This means checking the ground for underground wires and piping.  Once the land has been deemed ready for the next step our team will move forward with installing a concrete foundation or solidifying the ground if the client decides not to utilize a concrete pad.  Since we utilize pre fab metal for our barns our crew will be able to erect and install the structures in record times.  The entire building process is much quicker than utilizing other materials such as wood or brick.
Do Metal Barns Require A Concrete Foundation?
Often times you will see steel structures that are built with a concrete foundation pad.  The concrete foundation is used to provide the structure with a flat and solid foundation compared to building the barn on top of just the dirt floor.  These concrete foundations are beneficial when it comes to making sure that the foundation is rock solid, but they aren't required for every project.  It is possible to build a solid metal barn on the floor without having to pour concrete.  In order for this to happen the ground must be level and solid otherwise it won't be possible.  In order to make sure the structure is as solid as possible our team will also utilize anchors to make sure the structure is secure and sturdy.
---
Contact Champion Buildings Today
Champion Buildings firmly believes in erecting quality, cost-efficient steel and metal buildings for commercial, and agricultural purposes. For more information or to purchase your metal building, contact us today!