With their long-lasting durability and low maintenance, metal barns are a popular option for anyone in the agriculture industry or who owns livestock or a hobby farm. To help you get started on designing your barn, the experienced professionals at Champion Buildings will help you choose the right barn for your needs, including dimension and structural options.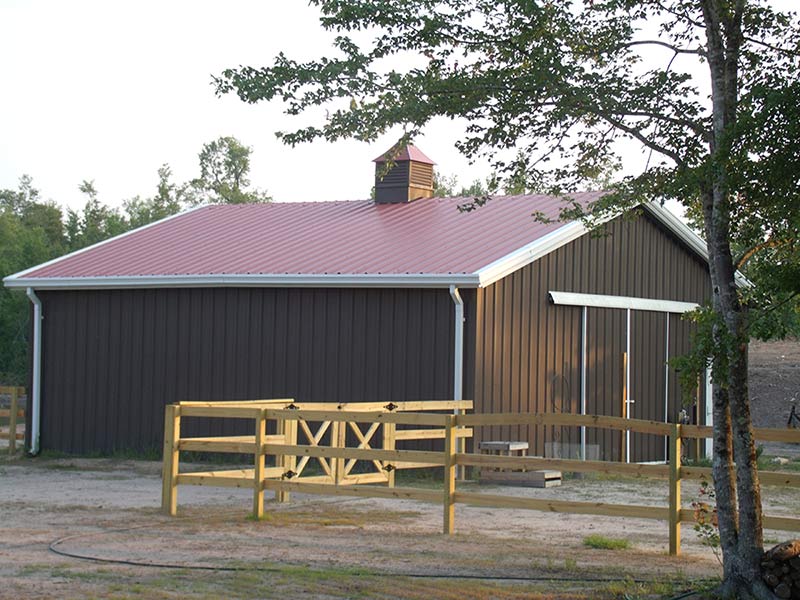 Why Choose Metal Barns for Your Farm or Property?
A pre-engineered steel barn offers a multitude of benefits, including: 
Cost Efficient – Steel is less expensive than wood and also requires less labor to put the structure together, saving costs on both materials and labor. 
Low Cost of Ownership – With proper insulation, you can reduce heating and cooling costs, and because they are resistant to fire and other hazards, metal barns are often lower to insure. 
Fire Retardant – Unlike wood, metal is not vulnerable to fire. 
Durability – Because metal is resistant to termites and rot, your barn will hold up for decades and maintain an attractive appearance.
Eco-friendly – Metal is highly sustainable and can be recycled infinitely without ever losing its strength and durability. 
Why Choose Champion for Your Metal Buildings
When you're choosing a company to deliver and erect your metal barn, we know you have several options. However, Champion Buildings stands out from the competition. 
Customization
We will work with you to determine the best options for your metal barn. This includes:
Insulated Steel Panels with superior R-values to minimize heating and cooling needs. 
Color Customization with an assortment of 23 color options to choose from including both standard and premium shades. 
Custom Floor Plans that allow you to design the structure you need, whether that includes or removes columns from the space, or you would like individual rooms for storage. 
Accessories to meet all your needs, from custom doors to windows, skylights, and cupolas. 
Building Quality
Our metal barns are 100 percent made in the USA from commercial-grade steel. We also use high-strength bolts in order to ensure that your barn is sturdy, stable, and able to withstand high winds, severe weather, and years of exposure. 
Turn-Key Service
While most metal building companies provide pre-engineered kits, we believe in going above and beyond. While we can certainly drop-ship your building supplies, we can also provide comprehensive service that includes professional concrete and erection services. We know that a durable steel building starts with a solid, professionally laid foundation, and we do the work for you. From design to the finishing touches, we do it all. Our concrete slabs include: 
Pier pads below every column
Perimeter footer
4 inches of gravel or sand
Wire
Rebar
Plastic
Anchor Bolts
Slab thickness you prefer (usually 4 to 6 inches)
Large Service Area
Champion Buildings delivers and erects pre-engineered barns across the Southeast and into the Mid-Atlantic and Midwest, including: 
Contact Us Today for Your Metal Barn!
If you want to protect your farm equipment, livestock, and other materials with a pre-engineered steel building, we're here to help. Call us today or fill out the form below to get started!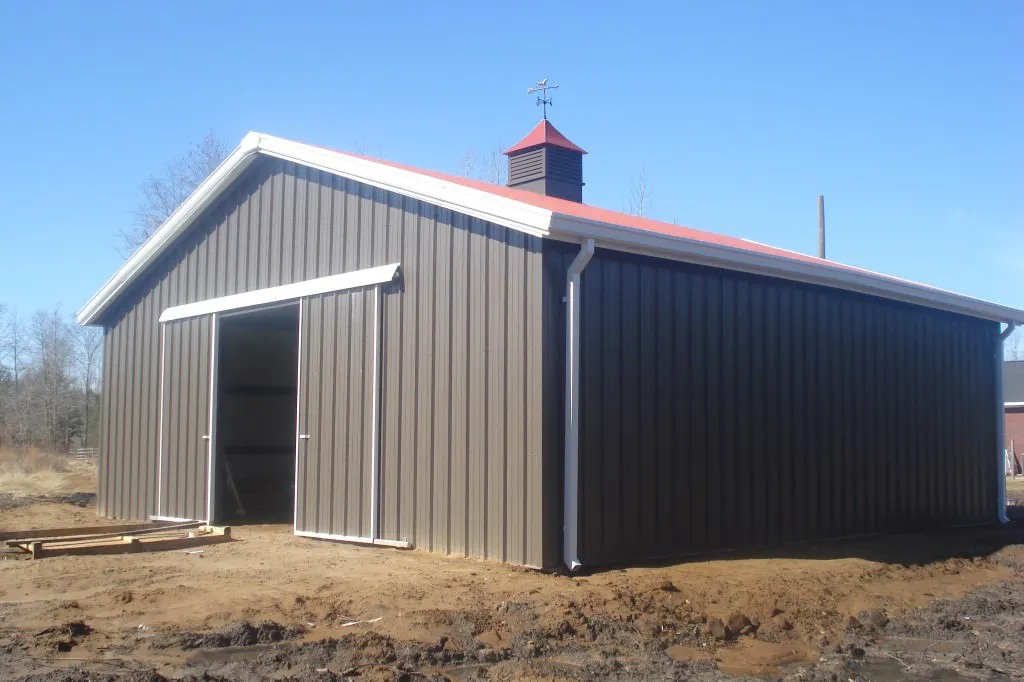 Metal Barns FAQs
What Sizes Do Metal Barns Come In?
Each farm is different which means that the amount of equipment they have is different.  Depending on the size of your farm and the amount of equipment on your farm will dictate how large of a barn you need.  Our professionals are able to provide our clients with steel barns in a variety of different shapes and sizes.  We will work with your requirements as well as how much available land you have to come up with the best dimensions for your barn.  Some clients need a barn with an elevated roof in order to store tall equipment whereas other clients need more floor space.  This is where our customization process comes in handy.  We will work with you to create a plan that works great for your business.
How Tall Can a Pre-Fabricated Steel Barn Be?
If you are storing farm equipment that is tall or would like to have more vertical airspace within your structure it is possible to build a metal barn that is tall but still provides a sturdy foundation.  Our team is able to develop a mockup plan for a steel barn that will fit your requirements.  We have experience building metal barns that are as tall as 40 or 50 feet as well as years of experience building steel buildings that are only one story, and everywhere in between.  You can trust that our professional team has seen nearly every mockup design available.
What Is The Installation Process Of A Steel Barn?
The process of installing and erecting a metal barn begins with finding out the requirements of the client.  This is where we will go over a few of the different styles and dimensions that we offer.  Depending on what type of equipment you are planning on storing will determine the size of the structure required for your land.  Once we have an idea of how large of a structure you are hoping for we can begin to analyze the land to make sure it is prepared for the installation process.  This means checking the ground for underground wires and piping.  Once the land has been deemed ready for the next step our team will move forward with installing a concrete foundation or solidifying the ground if the client decides not to utilize a concrete pad.  Since we utilize pre-fab metal for our barns our crew will be able to erect and install the structures in record times.  The entire building process is much quicker than utilizing other materials such as wood or brick.
Do Metal Barns Require A Concrete Foundation?
Often times you will see custom steel structures that are built with a concrete foundation pad.  The concrete foundation is used to provide the structure with a flat and solid foundation compared to building the barn on top of just the dirt floor.  These concrete foundations are beneficial when it comes to making sure that the foundation is rock solid, but they aren't required for every project.  It is possible to build a solid metal barn on the floor without having to pour concrete.  In order for this to happen the ground must be level and solid otherwise, it won't be possible.  In order to make sure the structure is as solid as possible our team will also utilize anchors to make sure the structure is secure and sturdy.
Is It Cheaper To Build A Barn With Wood Or Metal?
When it comes to a barn, there are two main construction materials to choose from: wood and metal. So, which is cheaper to build with?
Although metal barns typically cost more to construct than wooden barns, they can actually save you money in the long run. The high cost of lumber in recent years has also made the cost difference much more competitive. In addition, metal barns are more durable and require less maintenance than wood barns, meaning you'll save on repair and replacement costs over time. Metal barns also offer better protection from the elements, which can extend the life of your barn and the supplies inside.
So, while metal barns may have a higher upfront cost, they're actually a more economical choice in the long run. If you're looking for a barn that will last for years to come, metal is the way to go.