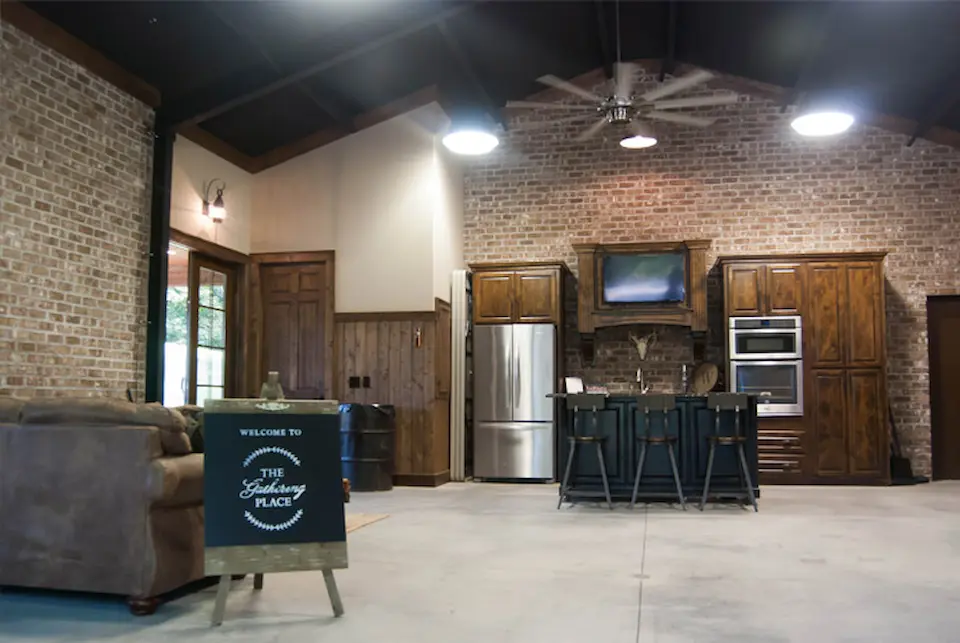 When you're looking for a new barndominium, Champion Builders is your source for quality metal building structures that are made to last. Barndominiums are becoming the latest trend as more people are looking for housing and office alternatives that provide open concept living space.
Whether you're choosing to live in a barndominium, work in it, or both, Champion Builders can come and build you a structure so you can enjoy barndominium life.
What is a  Barndominium?
Barndominiums or "barndos" as they're also called, are open concept steel buildings with large square footage that typically combine living quarters and working areas.
The living space can include the comforts of home that you would find in a traditional home. Everything from the basics of plumbing and electricity to more luxurious options, if you can dream it, you can have the barndominium of your dreams. Bedrooms and bathrooms offer privacy, but common spaces are open, allowing for greater versatility. 
The working area of a barndominium can include anything from a simple storage warehouse to a large workshop, depending on your needs.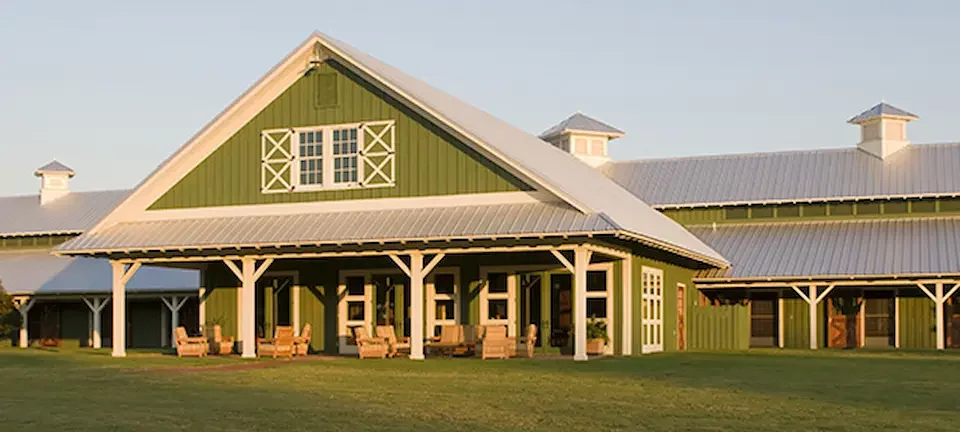 What Does a Barndominium Look Like?
Many barndominiums are metal building structures that look like a traditional barn on the outside. The interior typically looks like any other open layout but can vary with your barndominium floor plan. Most barndo floor plans are post-frame structures, which makes them very different from a traditional home.
Barndominiums also tend to have their mainframes made from posts that are driven into the ground. This makes them quicker and easier to build and less expensive than conventional home construction. The cost savings is one of the reasons some people opt for a barndominium for their own home.
The barn design and rustic elements are part of the charm of a barndominium-style home. This is one of the reasons why it has become popular with people looking to deviate from traditional home plans when searching for a new house.
What Are Barndominiums Used For?
Barndominiums are commonly used for living and working spaces. Many people designate a shop area to run their business while they live in the rest of it. But for some people, a barndominium is their main home.
Common Barndominium Characteristics
While each barndominium will have its own characteristics, there are several common trends you will find:
Wooden staircases

Vaulted ceilings

Exposed beams in the living spaces and kitchen areas

Sliding barn doors

Columns

Energy efficient windows
When you go over your barndominium floor plans, you can decide which types of features are most important so that your new home includes them.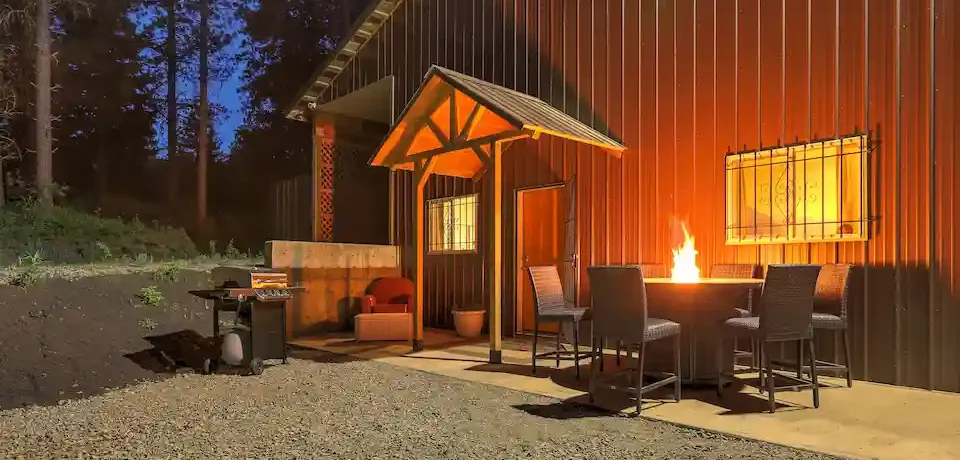 What are the Benefits of Building A Barndominium?
Many people are gearing towards barndominiums because of their many benefits. These include:
Faster Construction
The building process for barndominiums tend to be quicker than house plans for conventional construction.
Low Maintenance
When you shop houses, steel construction is low maintenance compared to the structure of a traditional home.
Energy Efficient
If you're looking for an energy-efficient home or workspace, a barndominium may be the way to go. They are known to offer optimal insulation and weatherization against the elements. This eliminates the need for extra cooling or heating in the building.
More Adaptable Design
Barndominiums offer fewer restrictions than traditional homes and allow you to maximize your space per square foot. You can get the most out of the space of your dream barndominium with open floor plans that have expansive views.
Discuss your barndominium plans with your contractor so that you can get a design that mirrors your dream home.
Eco-friendly
Barndominiums are more eco-friendly than their wood structures. They last longer, requiring less maintenance, and fewer materials.
Fire-resistant design
The structure of metal buildings is fire-resistant. When fire resistant materials are used inside of the home as well, the structure will be even less susceptible to fire damage. While the interior walls and wooden components can catch fire, the metal shell of the home will not.
Things to Consider When Building a Barndominium
Zoning
If you've bought a piece of land for your barndominium, be sure it is zoned for whatever you plan to use it for. Whether it's residential, commercial, or agricultural, you want to be sure you are following local regulations. Check local building codes to make sure you are within the guidelines.
Check Public Utilities
Don't just assume that all public utilities will be available with your new space. Make sure there is running water or if you're going to drill a well. Also, look to see if you can hook into the city's sewer system.
If you're not using solar panels, check the local electricity grid to see what is available.
Cell Service
Be sure you have adequate cell or internet options, especially if you're using the space as a working area.
FAQ About Barndominiums
Are Barndominiums Safe?
Yes, a barndominium is safe. Be sure you have taken out the proper permits and that your structure meets all building codes.
If you're building on a property where natural disasters are more common, a barndominium is often safer than wood structures.
Would a Barndominium Hold Up in a Hurricane?
Many steel buildings are designed to withstand 170+ mile-per-hour winds. But, every structure does have its limits. For most hurricanes, a barndominium would hold up.
Are You Looking to Build a Barndominium?
When you're looking for a quality constructed barndominium and not a DIY barndominium kit, Champion Buildings is here. You can count on us to get the entire project done for you efficiently and in a cost-effective manner.
While we are located in Wilkesboro, NC we serve surrounding areas but are not limited to North Carolina, South Carolina, Florida, Georgia, Ohio, Tennessee, Virginia, and West Virginia.
Call us today at (800) 942-6812 to find out more about how we can build a barndominium that best suits your needs!
All of our buildings are:
100% Made in the USA, Commercial Grade Steel
Prefabricated with all steel frames
Use high-strength bolts
Have optional 24 gauge standing seam roof
Clear span (up to 150′)
Available with a variety of metal building accessories
Available with a large color selection from walls, roofs, and trims
---
Contact Us Today For A Metal Barndominium!
Champion Buildings firmly believes in erecting quality, cost-efficient metal buildings for commercial, and agricultural purposes. For more information or to purchase your metal building, contact us today!