When you purchase your steel or metal building from Champion Buildings, Inc., you are purchasing a quality steel building. We offer all-in-one services that include laying the concrete foundation and the erection process. While most companies require you to have the concrete slab down before they will come to erect the building, we do it all! This means that you don't have to spend your time with other contractors on the phone and taking time out of your busy schedule to go over concrete plans.
Concrete Foundation Process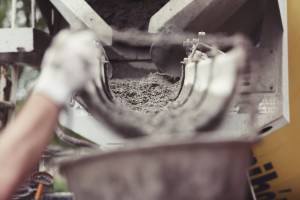 There are a few things that need to be done before your building can be erected. For starters, you need to eliminate all of the extra debris, trees, etc. from where you want the building to be located. After you clean up the area, you need to make sure the area is level so that your building will sit flat on the concrete foundation later. From here, you need to create a square foundation that will be an essential step in the erection of your steel building.
Concrete Slab
Champion Buildings can help you lay the foundation of your new building with a concrete slab. A concrete slab provides a stable base before the erection of a building occurs to ensure the most strength is put in to place for a durable, long-lasting structure.
Our concrete slab process is simple, quick, but done right. Concrete slabs can be often used for bases of:
Concrete Slab Cost
Concrete slab cost can vary depending on a few different factors. When we visit your job site, we will determine the ground work that will need to be done to properly place the concrete slab and metal building on. Depending on the amount of work that will entail, that can effect the cost of placing a concrete foundation. Secondly, depending on how big of a concrete slab you are looking to install, that will be the second factor in determining overall cost.
To get an accurate quote on your overall concrete project, call us today and we can provide you with an accurate estimate.
---
Contact Champion Buildings Today
Champion Buildings firmly believes in erecting quality, cost-efficient steel and metal buildings for commercial, and agricultural purposes. For more information or to purchase your metal building, contact us today!