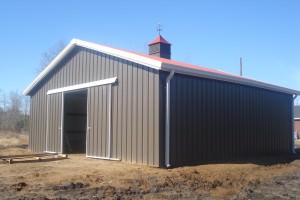 When you're looking at a metal barn for storage or you want an affordable way to build a restaurant or commercial space, Champion Buildings is here to help. Since 1999, we've provided turnkey metal buildings in Georgia that are customizable, high-quality, and built to withstand the elements while maintaining their beauty for decades. 
---
Request A Free Quote On Our Metal Buildings in Georgia
---
Why Choose Champion Buildings for Metal Barns and Steel Buildings 
Metal buildings are in high demand, and with good reason – they're long-lasting, incredibly durable, and affordable. When you get a building from Champion, not only do you get all those benefits, you get so much more. With our turnkey construction, we're with you from the start, helping you design and customize your perfect metal barn or prefab building so that it not only meets your budget, it has the features you need, including insulation, doors, windows, color options, and more. 
All of our buildings are:
100% Made in the USA using commercial grade steel
Built with high strength bolts
Offered with an optional 24 gauge standing seam roof
Clear Span (up to 150′)
Available with a variety of metal building accessories
Available with a large color selection from walls, roofs, and trims
Constructing Your Prefab Metal Building
Once you order your building, our teams get to work! As part of our turnkey service, we not only work with you on design, we design and pour a foundation and erect the building using high-quality steel panels. 
Concrete Foundation
A proper concrete foundation is essential for your building's stability and safety. All you need to do is make sure the ground is level, and our concrete team will come in to pour a slab outlined in the engineer sealed foundation design. The concrete foundation will consist of pier pads beneath each column, a perimeter footer, 4″ gravel or sand, wire, rebar, plastic, anchor bolts and a slab thickness per your specifications (typically 4″ – 6″).
Building Erection 
With a solid foundation in place, the building construction begins. Everything comes direct from our manufacturing center and all steel panels and materials will go through multiple quality control inspections. Then, we will also test the foundation to make sure it's properly cured and level. With our experienced team and a clear construction protocol, the actual construction begins, and your metal building will be up and ready in no time.
Metal Barns
One of the most common projects we do are metal barns in Georgia. Ideal for storing large equipment, including tractors, mowers, they can also be fitted to be used for livestock, including cows and horses. Because they are resistant to rain and moisture, pests, and even fire, you can feel confident that anything you need to protect and preserve will be safe in a Champion barn.
Prefab Office Buildings and Commercial Spaces
There is a major shortage of commercial property throughout Georgia as more people move here from other places. As companies expand, the need for office space in particular is growing, but the concerns of building cost is often preventing companies from getting the space they need. Fortunately, our metal structures can be used for prefab office buildings! 
Our metal buildings for offices offer a lower cost than nearly all building materials, can be erected quickly, and have the ability to be reconfigured to meet the exact layout you need. You can save hundreds of thousands of dollars on construction costs, plus, our prefab office buildings offer low maintenance and a low cost of ownership. 
Other Uses for Metal Buildings in Georgia
In addition to metal barns and office buildings, we construct buildings for commercial use, including:
Cities in Georgia We Serve:
Duluth
and surrounding cities
---
Contact Us for Metal Buildings in Georgia
Champion Buildings firmly believes in erecting quality, cost-efficient steel and metal buildings for commercial, and agricultural purposes. For more information or to purchase your metal building, contact us today!