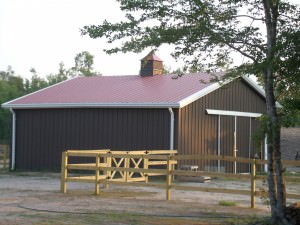 Metal riding arenas, horse barns, and boarding facilities are becoming more popular among equestrians, across a variety of disciplines. With no interior columns, these arenas can be customized by adding insulation, lights, cupolas, mirrors, and more. Having a metal building allows you the flexibility of creating your dream dressage arena, rodeo arena, show jumping arena, etc. at an affordable price.
Options & Accessories for Your Metal Building
Metal buildings allow you to have a custom design to suit your individual needs. For example, you can attach tack rooms or stalls to the sides of the arena or you can have your arena built with open walls to encourage ventilation. Having a prefabricated metal building means that all of the pieces are pre-made and pre-punched to allow easy construction while saving you the cost of a wood framed building.
Design Features for Your Prefabricated Metal Riding Arena
Our metal buildings are customizable to fit your needs. For example, you may choose to have a horse stable that is not connected to the riding arena 0r if you want it attached to the arena, you can have that too! You can choose to have a large aisle way, with stalls on one or both sides or stalls on the side with dutch barn style doors. You can also include a hayloft, with high ceilings for the best ventilation.
Call Champion Buildings for Your Equestrian Steel Building
Are you ready to build the barn and/or riding arena of your dreams? Contact Champion Buildings today! We can give you the information you need to make the best purchasing decisions. Our team of experts can help you get the barn or arena you want within your budget.
For more information or to purchase your metal building contact Champion Buildings at (800) 942-6812. Providing quality metal buildings at an affordable price to the Southeast: North Carolina, South Carolina, Alabama, Georgia, Florida, Maryland, Ohio, Tennessee, Virginia, and West Virginia.