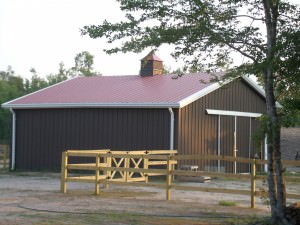 Prefabricated steel riding arenas are changing the equestrian world. They offer complete customization and durability at a lower cost compared to traditional building methods. Whether you're a passionate dressage enthusiast, a rodeo aficionado, or a dedicated show jumper, our steel riding arenas offer you the perfect canvas to create your ideal equestrian space. At Champion, we specialize in providing top-notch solutions for horse barns, shelters, and boarding facilities, all constructed with durable, cost-effective, and versatile metal buildings.
The Equestrian Revolution
Equestrians from various disciplines are increasingly turning to prefabricated metal riding arenas for their many benefits. One of the standout features of our steel arenas is the absence of interior columns, providing you with a spacious and unobstructed area that you can tailor to your specific needs and preferences. Here's why steel riding arenas are taking the horse world by storm:
Effortless Construction
One of the significant advantages of choosing a prefab metal horse shelter or riding arena is the simplicity of construction. Our metal building components are pre-made and pre-punched, ensuring a smooth and hassle-free assembly process. This not only saves you time but also minimizes construction costs compared to traditional wood-framed buildings. You'll have your dream equestrian facility up and running in no time.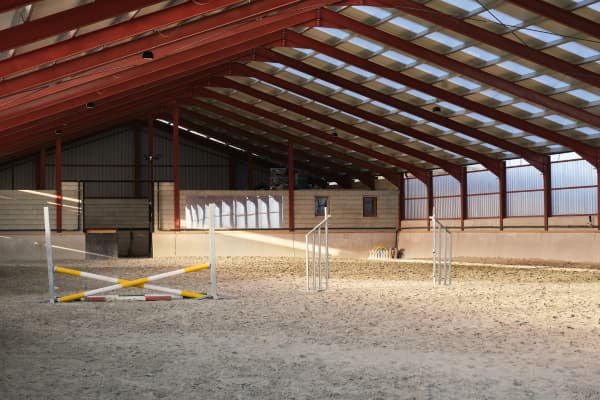 Customization Galore
With our steel riding arenas, customization knows no bounds. We understand that every equestrian has unique requirements, and that's why we offer a wide array of options and accessories to make your arena truly yours. You can enhance your riding experience by adding features such as insulation for climate control, state-of-the-art lighting systems, elegant cupolas for aesthetics, strategically placed mirrors for training, and much more. Whether you're looking to create a serene dressage arena or a thrilling rodeo space, our metal buildings provide the flexibility and affordability to bring your vision to life.
Unleash Your Riding Arena's Potential
Customized Arena Dimensions
Every riding arena is unique, and we understand that. That's why we offer tailor-made dimensions for your arena. Whether you require a regulation-sized dressage arena or a spacious rodeo arena, we can create a riding space that meets your exact specifications. No more compromises – your arena, your way.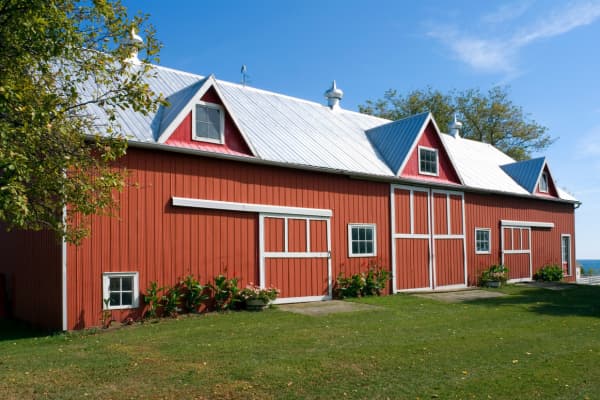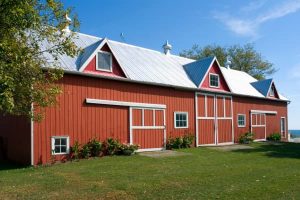 Specialized Footing
Footing is paramount to your horse's performance and safety. Steel buildings allow for various footing options, including sand, rubber, or specialized mixtures, designed to enhance traction, shock absorption, and overall riding comfort. You have the freedom to select the ideal footing for your riding style and discipline.
Rider-Focused Lighting
For those early morning or late-night rides, proper lighting is essential. Our rider-focused lighting solutions ensure that you have optimal visibility throughout your arena. Whether it's for practice or competitions, you'll be able to install the right amount of illumination to perform at your best.
Ventilation and Climate Control
Comfort isn't just about your horse; it's also about you. Optimize the riding experience with proper ventilation and climate control options. Open wall designs allow for natural airflow, while insulation keeps your arena comfortable year-round, no matter the weather.
Viewing Areas and Seating
For those who enjoy hosting events or lessons, consider adding comfortable viewing areas and seating options. Friends, family, and spectators can enjoy the action from a safe and enjoyable vantage point while you and your horse take center stage.
Tack Rooms and Stalls
You have the flexibility to attach tack rooms or stalls to the sides of your riding arena. This convenience ensures that all your equestrian essentials are within arm's reach while providing a comfortable and functional space for your horses.
Open Walls for Ventilation
For optimal ventilation and a refreshing atmosphere, you can opt for open walls in your steel riding arena. This design choice allows air to circulate freely, creating a comfortable environment for both riders and horses.
Aisle Way Configuration
Customize your arena's layout by selecting a large aisle way with stalls on one or both sides. This adaptable design makes it easy to accommodate the number of stalls you require while maintaining an efficient and aesthetically pleasing arrangement.
Hayloft with High Ceilings
Consider adding a hayloft with high ceilings to maximize ventilation and storage space. This feature not only keeps your hay fresh but also ensures a well-ventilated arena, essential for your horses' well-being.
Your Journey Begins Here
At Champion Buildings, we're dedicated to helping you turn your equestrian dreams into reality. Our prefabricated steel riding arenas offer unmatched quality, durability, and customization options. Plus, with our cost-effective solutions, you can create the equestrian facility you've always envisioned without breaking the bank.
Ready to embark on the journey of building your dream riding arena or horse shelter? Contact us today for a free consultation. Our team of experts is eager to discuss your project, answer your questions, and provide you with a customized quote tailored to your unique requirements.
Join the growing community of equestrians who have chosen the innovation and affordability of steel riding arenas. At Champion Buildings, we're here to make your equestrian dreams take flight!
Metal riding arenas, horse barns and shelters, and boarding facilities are becoming more popular among equestrians, across a variety of disciplines. With no interior columns, these arenas can be customized by adding insulation, lights, cupolas, mirrors, and more. Having a metal building allows you the flexibility of creating your dream dressage arena, rodeo arena, show jumping arena, etc. at an affordable price.
---
Request a Quote Today for a Steel Riding Arena!
Are you interested in getting a prefabricated metal building for a riding arena or stables? For more information or to purchase your metal building contact Champion Buildings by visiting our contact us page or calling us by pressing the button below.