Champion Buildings offers turnkey metal buildings and a start to finish process to our customers. Once we reach an agreement, we will pour the slab of concrete out, then erect the steel beams in the cement. Champion Buildings specializes in concrete and erection services, so you don't have to outsource it to someone else.
All-In-One Pre-Engineered Metal Building Services
There are a variety of steps involved in getting your metal building constructed and ready to go. With our help, these steps don't have to be time consuming.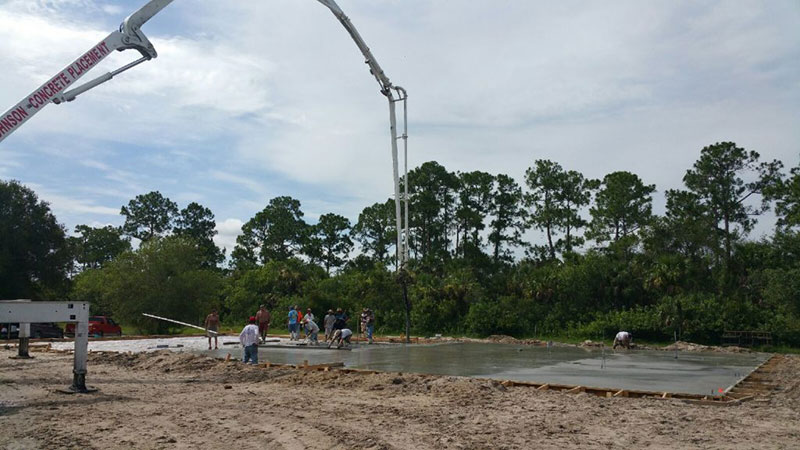 The Pre-Construction Process
Just like the construction of a traditional building, these metal buildings also need to be on a solid foundation. Before the foundation can be poured, you have to survey the land to make sure that the building will be level and that the boundaries of the plot are determined. Once the site is evaluated and marked construction can begin!
Let Champion Buildings, Inc. Do the Foundation for You!
The concrete crew will provide a slab per the specifications outlined in the engineer sealed foundation drawings provided. The concrete foundation will consist of pier pads beneath each column, a perimeter footer, 4″ gravel or sand, wire, rebar, plastic, anchor bolts and a slab thickness per your specifications (typically 4″ – 6″).
Erecting Your Metal Building
The Champion Buildings, Inc. crew will unload and erect the building from the frame to windows, doors, and insulation. The metal building parts will be very heavy and will be transported on a large flatbed truck. They provide their own equipment and tools.  Erection of the building comes with a 1-year workmanship guarantee.
*All crews are insured.
---
Contact Champion Buildings Today!
We can help you with every step of the process to make it an easy, worry-free experience for you. We firmly believe in erecting quality, cost-efficient metal buildings for commercial, and agricultural purposes. For more information or to purchase your metal building, contact us today!