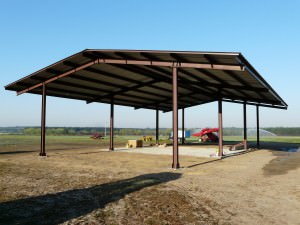 Metal buildings have become increasingly popular in the agriculture industry. Metal buildings are preferred by farmers for a variety of reasons including durability, affordability, constructability, and low maintenance.  If you are looking for an agricultural steel building that is affordable but will also last well in any kind of weather, then a steel shelter is a great choice for you.  Our trained team at Champion Buildings will help you decide what the best possible shelter for your land is and guide you through the process of picking out an agricultural steel building.
Types Of Pre-Engineered Agricultural Steel Buildings
We can provide you with an agricultural steel building completely customized to suit your needs. This could be a barn, riding arena, shed, storage building, car barn, garage, or whatever it is you may need.  The team at Champion Buildings have experience working with a wide variety of different buildings such as agricultural shelters, farm buildings, aircraft hangers, mini storages, and many other styles.  No matter what kind of steel building you are hoping for, our experience will help you decide what the best option is for you based on your needs.  Once your needs are established, we are able to customize the shelter in order to fit the sizing required by your team.
Benefits of a Prefabricated Agricultural Shelter?
Protect your investments from harsh conditions such as rain and snow today. At Champion Buildings, we understand you want a reliable and dependable building, as it will serve as protection for your livestock and equipment.
Pre-engineered agricultural shelters are a cost-effective solution for your storage needs.  Steel made agricultural shelters are known for providing a longer lasting and weather resistant solution for agricultural establishments compared to shelters made of other materials.  With the pre-engineered steel shelters provided by Champion Buildings you can rest assured that you are receiving top quality protection to your agricultural investments.
Steel Agricultural Buildings Are Low Maintenance
Compared to agricultural shelters made from other materials, steel shelters require an incredibly low amount of maintenance.  With shelters made out of materials such as wood you have to be concerned about the wood being stained or starting to mold.  With steel shelters you don't have to worry about either of these issues.  All that needs to be done to properly clean your steel shelter is to spray it down with a hose.  Compared to other materials that must be treated and hand cleaned to keep the material healthy.  Steel agricultural shelters provide the best possible protection as well an incredibly low maintenance option.
Affordable Steel Shelters With Better Protection 
Steel shelters not only provide great protection but because they are pre-engineered and easier to manufacture they provide a more affordable price for consumers.  Shelters which are handmade out of wood typically take many more man hours to build as well as having more costly materials which will make the overall price of the shelter much greater than a steel shelter.  Steel shelters are one of the best options when it comes to having a shelter that is affordable, easy to maintain, and provides great protection.
Agricultural Steel Building Sizes
Available Standard sizes are widths of 30′, 40′, 50′ or 60′ and lengths starting at 75′ and up in 25′ increments.  Standard heights are 12'8, 14'8″ and 16'8″.  Custom sizes are available.  Depending on the needs of each customer the team at Champion Buildings can help provide guidance on what the best shelter size is for their land and their needs.
May be placed on a concrete slab or piers only.
Agricultural Shelters FAQs
What Size Agricultural Shelter Do I Need?
Before purchasing a shelter for your agricultural tools and equipment it is important to think about how large of a shelter you need.  This means making a list of how much equipment you would like to protect and how much space these pieces of equipment take up.  Our professional team will help you understand how large of a shelter you need to properly protect your equipment and tools. It is important to make sure your estimates are accurate in order to get the best possible results from your shelter.
What Are The Benefits Of Steel Shelters?
Steel shelters are used by a large percentage of agriculture facilities because they provide multiple benefits compared to other materials such as a more affordable price, less maintenance to take care of, a more secure shelter, and other benefits. Prefab steel shelters are great for the outdoors because they are resistant to cold and wet weather.  This separates them from materials such as wood because wood can get waterlogged and lead to mold and foundation issues.
Steel shelters also offer a much better price compared to other materials as they have cheaper material costs as well as require less labor hours. This means that it is more cost effective to use a steel shelter to protect your farming equipment compared to other materials. You can trust the steel to keep your tools and equipment safe without having to worry about cleaning the shelter every week.
Are Steel Shelters Better Than Wood Shelters?
Steel shelters are used more often on farms compared to wood shelters as they are stronger and are typically more cost effective.  Materials such as wood require expensive material costs and typically take multiple months to build which means they require more labor hours.  However, steel shelters utilize prefabricated materials that are cheaper and quicker to erect.  If you have farm or agriculture equipment that you need to protect, we recommend having a steel agricultural shelter to keep your equipment safe from the weather.
What Kind Of Shelters Are Used For Agricultural Facilities? 
Agricultural facilities and farms typically have a wide variety of different buildings and shelters on their premises.  It is common to have houses, livestock barns, horse riding arenas, equipment sheds, storage buildings, workshops, car barns, garages, and many other buildings.  Our team at Champion Buildings has years of experience creating a wide variety of different buildings and shelters for farms.  We can work with you to design the best possible shelter for your needs.
How Long Does It Take To Build A Farm Building?
It is difficult to give an exact estimate how long it will take to build a shelter for your agricultural facility as there are a wide variety of different building types and sizes.  Our team has years of experience helping farmers to design and erect a shelter that is perfect for their facilities.  Typically steel shelters are much quicker, and cheaper, to build compared to using materials such as wood.  By utilizing prefabricated steel materials we are able to erect your shelter much quicker than the alternative.
---
Do You Need an Agricultural Steel Building? Contact Us Today!
We can help with design and functionality, to ensure you get the most out of your steel shelter! For more information or to purchase your metal building contact Champion Buildings by calling us or filling out the contact form below.