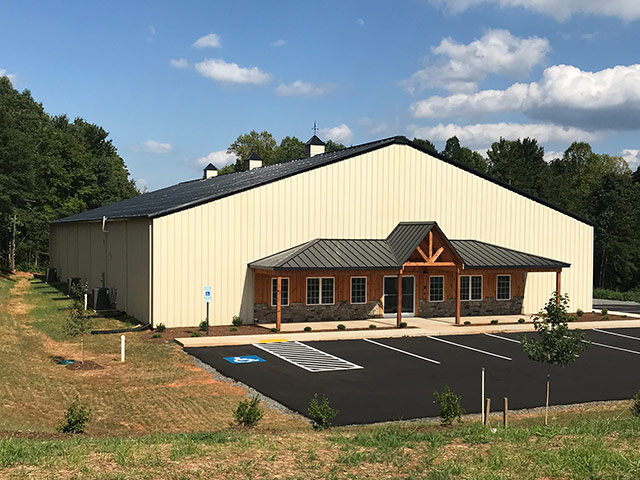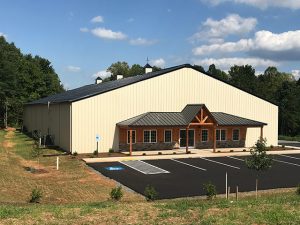 North Carolina is known for its diverse landscapes, from the Appalachian Mountains to the Atlantic Coast. With such diverse terrains, it's important to have buildings that can withstand any weather condition. That's where Champion Buildings come in. With their durable and reliable metal buildings, garages, and steel buildings, they are your top choice for construction needs in North Carolina.
Champion Buildings offers prefab metal and steel buildings, with a variety of colors and features to choose from. Our metal buildings are functional, cost-efficient, and ideal for commercial and residential use.
Benefits of Champion Metal Buildings in NC
Steel and metal buildings in North Carolina offer many benefits over wooden or brick-and-mortar structures, especially in hot and humid North Carolina. Steel is resistant to termites and mold, making maintenance a breeze! Champion Buildings is the top choice for metal buildings, garages, and steel buildings in North Carolina.
Customizable
Champion Buildings offers highly customizable metal buildings that can be tailored to meet your specific needs. One of the key advantages of metal buildings is the flexibility they offer in terms of color, style, and size. You can choose from a wide variety of colors and finishes to ensure your building matches your branding or personal preferences. In terms of size, the company can design and construct metal buildings in virtually any size, allowing you to get the space you need for your project or business. With such a range of options, Champion Buildings' metal buildings are a great choice for anyone looking for a durable, customizable, and cost-effective building solution.
Quality Materials
Champion Buildings' metal buildings are renowned for their high quality. They use only the finest materials to manufacture their buildings, ensuring that they are durable, long-lasting, and can withstand even the harshest weather conditions. Their buildings are designed with strength and stability in mind, and they are constructed to meet or exceed industry standards. The attention to detail and quality is evident in every aspect of their buildings, from the sturdy steel frames to the precise welds and finishes. Whether you need a small garage or a large commercial building, you can be confident that Champion Buildings will provide a high-quality metal building that will meet your needs and exceed your expectations.
Affordable Pricing
Different Types of North Carolina Metal Buildings 
Champion Buildings offers a wide range of metal buildings, including:
Metal Garages
Metal garages are an excellent option for those who need additional space for their vehicles, equipment, or other items. These garages offer a secure storage solution that is both durable and cost-effective. With their customizable options, you can get the exact size and style of garage you need for your property. Our metal garages are designed to withstand extreme weather conditions and will provide years of reliable protection for whatever you need to store. Choose Champion Buildings if you want a metal garage that is strong, versatile, and affordable!
Steel Storage Buildings
Metal storage buildings are the perfect solution for those who need space to store their extra belongings. Our metal storage buildings are designed with security in mind and can provide you with a place to store valuable items, heavy equipment, or other materials that you don't have space for at home. Our durable metal frames ensure that your building is as secure as possible, and with our wide range of sizes, you can find the perfect solution to fit your needs. Choose Champion Buildings for a reliable metal storage building that is sure to last!
Metal Garage Workshops
Metal workshops are the perfect solution for all your home improvement and DIY needs. Our metal workshops provide a safe and secure place to work on projects or store your tools, materials, and equipment. They also offer plenty of space to get creative and tackle any project. Our metal workshops come in a wide range of sizes, so you can find the perfect size for your needs. Constructed of high-grade steel, our metal workshops are reliable and resilient and will provide you with years of use. Choose Champion Buildings for a metal workshop that is strong and dependable! 
Metal Barns
Metal barns are a great choice when you need lots of space for your farming and livestock needs. Our metal barns are easy to assemble and provide plenty of room for animals, hay, and equipment. Constructed of durable steel panels, our metal barns offer excellent protection from the elements and will stand up to years of wear and tear. Our barns come in many sizes so you can find the perfect fit for your needs. Choose Champion Buildings for a reliable metal barn that is sure to last!
A Metal Building Gets Your Project Moving Quickly
One of the best things about constructing a metal building is how quickly they can be completed. Whether you're launching a business or need shelter for your farm equipment, erecting a metal building saves time and gets you started faster so you can focus on more important matters.
Steel and metal buildings are great for the following uses:
Warehouse Buildings
Factory Buildings
Chemical Storage
Crane Buildings
Recreation Centers
School Buildings
Agri Storage
Dairy Barns
Quick construction doesn't just mean you get your project started faster, it means you save time and money on construction! In addition, metal buildings are durable, requiring fewer maintenance costs over time.
Customize Your Metal Building
Champion Buildings offers a wide variety of colors, sizes, and accessories to customize your building. Choose from one of our existing layouts or design your own and view our gallery to see our custom buildings!
---
Contact Champion Buildings for Your New Steel or Metal Building in North Carolina
If you're interested in a prefabricated metal building in NC, make Champion Buildings your #1 choice. For more information or to get started with your metal building, contact us online or give us a call by pressing the button below.