When you need a custom workshop, Champion Buildings makes it easy to get
exactly what you need without the stress and hassle of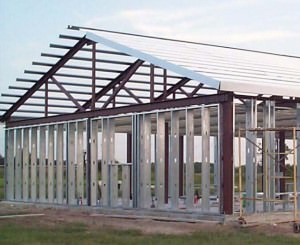 traditional construction. Our customization options and turnkey installation provide you with the opportunity to get the steel workshop building you need quickly, while sticking to your budget!
Why Choose a Steel Workshop Building?
If you're looking at having a workshop placed on your property, whether it's for commercial or private use, why choose a steel workshop?
Cost-Effective. Steel buildings are significantly more affordable than comparable buildings made from wood, brick, and concrete.
Fast Installation. From start to finish, our steel workshop buildings can be installed much faster than traditional buildings, which also reduces labor costs!
Unlimited Customization. Get the exact structure you need with customization options that include size, windows, insulated panels, doors, colors, and more. Plus, steel buildings allow you to finish the interior to install insulation, walls, and HVAC solutions how you see fit.
Multi-Purpose Structures. Work with our building design experts to create a custom plan that can include attached carports, storage areas, or combine a metal garage with workshop space.
Unmatched Durability. Our steel workshops are designed to withstand 200 mph winds, and are resistant to mold, water, and termites so it will maintain its structural integrity and appearance for years to come!
Our Prefab and Steel Building Installation Process
We are dedicated to providing a stress-free experience for our customers, which is why we offer turnkey installation services.
Design. Choose a prefabricated option or work with a building design expert to customize the structure you need. Once you're confident you have everything you need, we get to work putting it all together.
Manufacturing. Your building is manufactured right here in the United States using high-quality, commercial grade steel.
Concrete Installation. We design and pour the concrete slab that will ensure a solid, long lasting foundation for your steel workshop building.
Building Construction. When your building is ready and the slab has cured, our experienced team will install the building to ensure it's durable, stable, and ready for use!
Why Choose Champion Buildings?
Since 1999, we have been the leading manufacturer of pre-engineered steel buildings in the Southeast. What makes us the leader?
Our buildings are made in the United States using commercial grade steel and high-strength bolts.
Our turnkey installation means you never have to hire a separate concrete company or outside service.
Huge selection of colors for walls, roofing, and trims.
Large variety of both functional and decorative workshop accessories.
Champion Buildings offers guaranteed workmanship, quality you can depend on, and competitive pricing so you get the best value for your steel workshop building!
Our Service Areas
Champion Buildings installs steel workshops across the Southeast and into the Mid-Atlantic and Midwest, including:
Contact Us to Discuss Your Custom Steel Workshop Building Today
At Champion Buildings, we are dedicated to installing high-quality steel workshops that are functional, attractive, and affordable. Reach out to us today to discuss your custom workshop or get more information by calling us at (800) 942-6812 or filling out the form below to get started.
Contact Form Champion Buildings