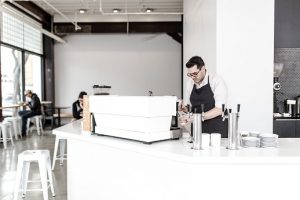 If you're ready to turn your dream of opening a restaurant into reality, the most pressing issue you're facing is the start-up cost. The average cost to open a restaurant is around $425,000, and much of that is the building cost and customization needs. Fortunately, choosing a quality, steel building from Champion Buildings to house your restaurant can help you reduce costs while maximizing your restaurant's capabilities.
Since 1999, Champion Buildings has created custom prefabricated metal buildings for a wide range of commercial services across the Southeast and Mid-Atlantic. Our open floor plans make it possible to utilize space exactly how you envision without having to worry about support columns or load bearing walls. Best of all, once your restaurant is constructed, it's virtually maintenance-free so you don't have to worry about the unexpected costs of exterior repairs.
Benefits of a Metal Building for Your Restaurant
Instead of choosing between building a wooden or brick structure that can run into hundreds of thousands of dollars or renting a restaurant space that can lock you in to an expensive and constrictive lease agreement, consider the benefits of a pre-fabricated metal building!
100% Customizable: Create the exact layout you want with our open layout plans! Whether you want a fully open setup with an open kitchen, or you want to create an intimate atmosphere, our design team will work with you to create the layout that works with you.
Easy to Update: As your restaurant grows, you can change your layout without worrying about moving load bearing walls or support columns. If you want to add a private dining room or redesign your kitchen after a few years, your building design allows for customization.
Save on Rent or Building Costs: Our steel buildings are significantly less expensive than lumber or brick and don't require the maintenance costs.
Fast Construction: Instead of the months it takes to build a wooden or brick structure, we can have your restaurant building up quickly and efficiently so you can launch your restaurant in the fraction of the time.
Eco-Friendly: Steel is a highly sustainable, frequently recycled material. Plus, the width of the steel sheets allows for thicker insulation, so you can reduce the energy used to heat and cool your new restaurant.
Maintenance Free: With our prefabricated metal buildings, you never have to worry about termites, sagging, or warping that comes from other materials.
All-In-One Prefabricated Metal Building Construction
At Champion Buildings, we go beyond just selling a top-quality, prefabricated metal building kit. Our turnkey service means our professional team will arrive at your restaurant's location to lay the concrete slab and install the building exactly to your design's specifications! All you need to do is provide a power source, such as a generator, and our crew will do the rest.
About Our Restaurant Metal Buildings
Every metal restaurant we manufacture includes:
100% Commercial-grade steel that is made in the USA
Prefabricated with 100% steel framing
High-strength bolts
Clear span of up to 150 feet
You also have a wide variety of metal building accessories to customize your restaurant, and you can keep it neutral or stand out from the crowd with our vast color selection for your walls, roofs, and trim. With an optional 24 gauge standing seam roof, you truly can construct the exact restaurant you dream of opening.
---
Contact Champion Buildings Today
Champion Buildings firmly believes in erecting quality, cost-efficient steel and metal buildings for commercial, and agricultural purposes. For more information or to purchase your metal building, contact us today!