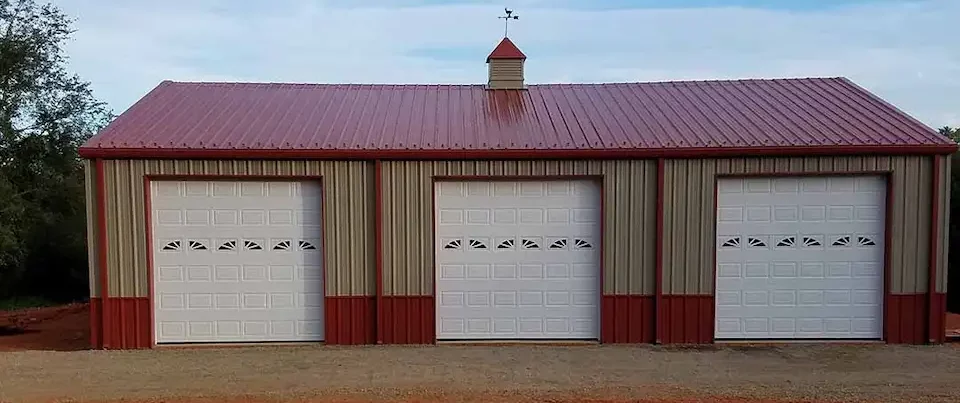 Many people dream of owning an RV, so when they finally do, they want to keep it protected. A metal building for RV is one of the best ways to keep your RV in great shape.
RV storage buildings are a necessity for anyone who owns a recreational vehicle. Proper storage of recreational vehicles is important because it protects them from the elements, guards them against theft, and helps to reduce wear and tear. You can also store any accessories that go along with the RV in the same place. RV owners also use these spaces as a workshop for routine maintenance and repairs before their next trip.
What is a Prefabricated Steel RV Garage?
A prefab RV garage is a popular alternative to a traditional garage. While it gives you space and functionality as metal garages do, steel buildings for RVs are designed to fit your recreational vehicle dimensions while keeping it secure.
How Big Is A Metal Building For A Motorhome Or Camper?
The square foot size of an RV metal building will depend on what you intend to use it for. If you just want to store your camper or RV there and don't intend to use it for storage or a workshop, you just need one that's big enough to fit the vehicle. But, if you want to store other equipment or materials, you'll want to have enough space to do that comfortably while safely storing your RV.
Popular Sizes of Garages for RVs
If you need a custom metal building for your camper or RV, there are several popular sizes for RV metal buildings that people typically choose from:
10X25 RV Garage

16×50 RV Garage

24×48 RV Garage

25×30 RV Garage

26×36 RV Garage

35×60 RV Garage

40×40 RV Garage
You'll want to keep your lot size in mind so that you don't choose a new steel building that is too large for your space.
At Champion Buildings, we can help you decide what size custom-designed metal building is best suited for your RV and your needs.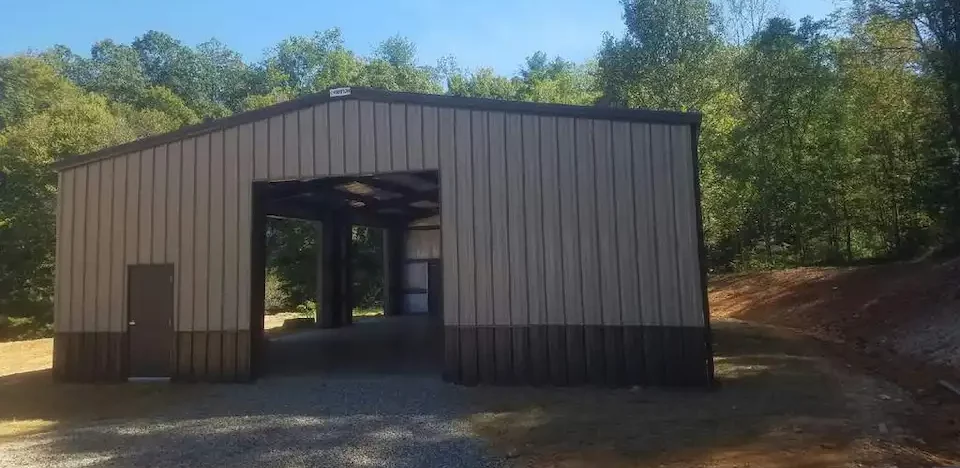 Benefits Of Metal Buildings for RVs
Durable
Metal is a durable material for an RV garage. It can protect against high winds, rain, and snow. Various roof options can help when it comes to optimal rain run-off. Durability is a big plus because you not only want your garage to protect your vehicle from the elements, but you also want it to last for years to come.
When you choose a metal building for your RV, you won't have to worry about any potential damage the weather may cause because a metal garage will keep your vehicle safer than a regular-style garage.
Affordable
Generally, prefabricated steel garages for RVs are cost-effective. Since the components are designed and built ahead of time, there are savings when it comes to construction and the design process. Steel prices are often less than some other traditional building materials like brick, wood, and stone.
Extra Storage Space
Steel structures for RVs provide extra storage space for RV covers and other items. Instead of looking for another area to store these things, you can have easy access to them by conveniently keeping them in one location.
Low Maintenance
Metal buildings and steel buildings are easy to take care of and clean. All you have to do is spray them down to clean. You also don't have to worry about wood rot, termites, or other pests.
FAQ About Metal Buildings for RVs
Metal Carport or Garage: What Do I Need?
Many times, metal carports are easier to install on a property than adding a garage. Installation is quicker than building a structure from the ground up. The price can also be more affordable. Even when you choose a custom carport, custom metal buildings are often the better choice.
Will My Steel Building Need A Concrete Foundation?
Some people prefer a concrete foundation for a steel building. You'll need to assess your property and the location you intend to place it to determine if a concrete foundation is necessary to give you more stability.
How Can I Customize My RV Garage?
There are so many different ways to customize metal buildings. Customization options include different roof styles colors, doors, windows…the list goes on! Choose from walk-in doors and much more. If you have an idea for what you want your metal RV garage to include, let Champion Buildings work with you to get you the best prices!
Contact Champion Buildings For All Your RV Storage Needs
Champion Buildings can provide prefabricated metal buildings for RVs and more! We are your source for durable metal buildings at affordable prices. Let us show you why a metal garage is the best choice to save money when you're looking for cost-efficient parking for your camper.
We offer service in:
North Carolina

South Carolina

Alabama

Florida

Georgia

Kentucky

Maryland

Ohio

Tennessee

Virginia

Washington, DC

West Virginia
Call us today or fill out the contact form below for more information on the metal structures we provide for recreational vehicles.