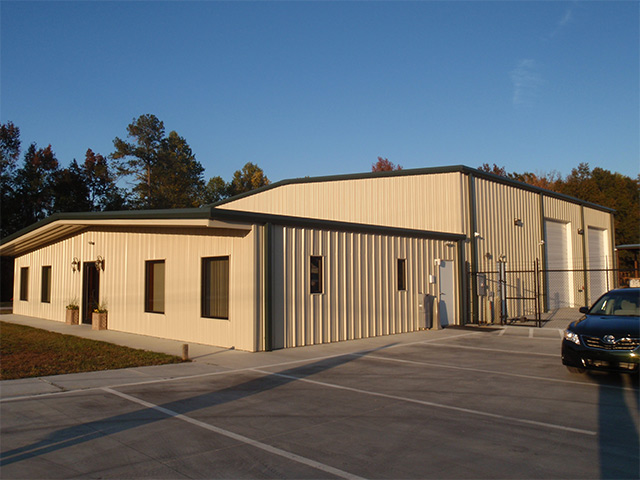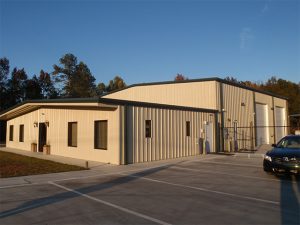 The business world continues to evolve, so why shouldn't the buildings we in work do the same? Office and warehouse buildings are changing from the traditional office buildings that most people are used to working in, to a more cost, space, and energy efficient option. While a traditional building may seem like the right choice for your office building, take into consideration all the advantages that a metal building from Champion Buildings can offer you.
Choosing a Prefab Office Building
Having to build or expand an office space needs to be a fast and efficient process. The process of designing and constructing a prefabricated metal building takes significantly less time than a traditional building. Durability, flexibility, construction speed, and cost make a metal building a great choice for any office or warehouse space.
At Champion Buildings, we offer prefabricated metal buildings that can be erected fast and efficiently to get your office building up and running in no time. Erecting a metal building takes a fraction of the time that it would take to build a more traditional structure. Having a metal building as your office space gives you the ability to meet your specific layout needs while having the ability to explore several options to customize your storefront based on your personal style. The pure strength of a pre-engineered steel framed building far exceeds other types of building construction.
Steel Warehouse Buildings in the USA
Finding an existing warehouse with all of the features you require can be challenging and take longer than expected. Our team of professionals at Champion Buildings can help you find a warehouse design to best fit your requirements and industry. We have many options and accessories to help you create a custom metal warehouse building, such as insulated metal wall panels and different window and door choices. We also offer a selection of color options, so your new structure matches your business. Whether your project is large or small, you can count on Champion Buildings for complete satisfaction.
Locations Champion Buildings Serves
Best Solution for Your Prefab Office Buildings Needs
Purchasing a pre-engineered metal building from Champion Buildings is the perfect option for your office space. We provide turn-key solutions, so we can complete your building project from start to finish. Let us do the work, from building to concrete, and erection – we do it all! Erection of the building comes with a 1-year workmanship guarantee that will give you added peace of mind.
During your consultation at Champion Buildings, we will discuss your business needs and make recommendations as to which metal building design and features will best suit those needs. As a recognized leader in commercial pre-engineered metal buildings, we can help you create your steel office or warehouse building today.
All of our Buildings are:
100% Made in the USA, Commercial Grade Steel
Prefabricated with All Steel Frames
Use High Strength Bolts
Have optional 24 gauge Standing Seam Roof
Clear Span (up to 150′)
Available with a variety of Metal Building Accessories
Available with a Large Color Selections from Walls, Roof and Trims
---
Contact Us For a Prefab Office Building!
Are you interested in getting a prefabricated metal building as an office or a warehouse? Whether you are looking for a small office building or a large warehouse building, Champion Buildings can fulfill your needs. Our staff have over 50 years of combined metal building experience. For more information or to purchase your metal building, fill out our contact form below or speak to a specialist today!