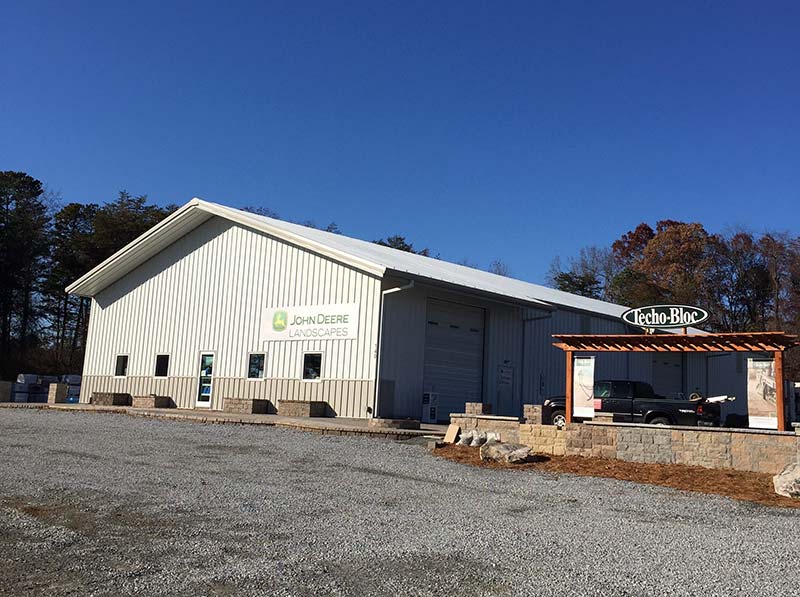 Champion Buildings is the leading manufacturer of metal buildings in Virginia, and we have a well-earned reputation for excellence. With a near-limitless selection of customization options, you can design the exact building to meet your specific needs, and our turnkey construction process ensures a hassle-free experience. Discover how we can help you get the perfect metal building for your commercial or agricultural needs while sticking within your budget. 
---
Request A Free Quote On Our Metal Buildings in Virginia
---
Uses for Metal Buildings in Virginia
Because of the benefits and convenience listed above, more people are turning to metal buildings in Virginia for commercial, agricultural, and storage needs. 
Metal Buildings for Offices 
When you need an office building or other commercial purpose, metal buildings offer versatile floor plans including vast open spaces, small cubicles, and so much more. With their rapid construction and low building costs, you can begin putting your building to use and getting your return on investment more quickly.
We install buildings for a variety of uses in addition to offices, including: 
Metal Garages and Storage
When you need outdoor storage to protect your lawn equipment, outdoor furniture, and tools, or you want to protect your vehicle, boat, or RV from the elements, a metal garage can be the solution you need.
In addition to residential metal garages and carports, customize a garage or workshop for repairing and restoring cars or opening a shop for commercial purposes. 
Steel Barns
Protect expensive farm equipment or provide a safe area to house livestock with our steel barns and horse riding arenas. We have versatile layouts available to create multi-purpose buildings so you can have a cost-effective way to store grain, heavy machinery, and keep your animals out of the elements. 
Why Choose a Steel Building?
No matter what kind of structure you need, a steel building offers several benefits over traditional building materials like wood, brick, and concrete. 
Cost-Effective
Steel buildings can be built for a fraction of the cost of other structures. The materials are generally much less expensive, but where the savings really come through is in the labor. Metal buildings are not nearly as labor-intensive as traditional buildings, so the costs to build will be significantly less expensive.
Customization
Champion Buildings offer a broad selection of customization options so you can get the exact building you need. This includes size and layout options, color choices, finishing accessories, including ductwork and gutters, and so much more. Plus, it's easy to customize an erected steel building. Because there aren't load-bearing walls like in a traditional structure, you can create a more open layout or place walls and rooms where they suit your design needs. 
We will sit down with you to help you design your building according to its intended purpose and your aesthetic preferences. 
Rapid Installation
Even small garages and barns can take weeks to build using wood, brick, or concrete block. A prefab metal building can be constructed and functional for use in a much shorter time frame.  
Sustainable
Steel is one of the most sustainable materials available for building. Not only are no trees cut down, but it can be recycled with ease and without damaging or degrading the material.  It's long-lasting, durable, and it can be insulated efficiently to minimize energy usage. 
Low Maintenance
While traditional buildings often deal with termites, wood rot and warping from high humidity and moisture, and damaged roofing, metal buildings don't face those challenges. Because we use high-quality steel and long-lasting, weather-resistant paint, you don't have to worry about rust, chipping, or denting, either. Our buildings are designed to withstand heat, severe weather, and extreme conditions while maintaining their structural integrity and attractive appearance.  
The Champion Metal Building Turnkey Process
We know that whether you're having a garage constructed or a large building for an office put up, it can be a stressful experience. We strive to eliminate hassles with a turnkey process. 
Design and Customization
Our design and sales team will help you design the right building to meet your needs and your budget, and once we have the details, our manufacturing team gets to work. The parts and components to your building are manufactured at our warehouse, and while this is going on, we'll send a concrete crew to pour the slab. 
Pouring a Concrete Foundation
Your concrete foundation is designed with long-lasting structural integrity in mind and will consist of: 
Pier pads beneath each column;
Perimeter footer 
Four-inch layer of gravel or sand 
Wire and rebar 
Anchor bolts
Poured concrete at four to six inches thick 
 Erecting the Steel Building
When the building is ready and the concrete is properly cured, our team will deliver, unload, and construct your building. Our crews are insured to protect your property, and all buildings include a one-year workmanship guarantee. 
About Our Buildings
All of our buildings are:
Manufactured in the United States from 100 percent commercial-grade steel;
Prefabricated with steel frames
Equipped with high-strength bolts
Clearspan (up to 150′)
Available with a variety of metal building accessories;
Available with a large color selection from walls, roofs, and trims;
Cities in Virginia We Serve:
Purcellville
Remington
Charlottesville
Richmond
and surrounding cities
---
Contact Champion Buildings for Metal Buildings in Virginia
Champion Buildings firmly believes in erecting quality, cost-efficient steel and metal buildings for commercial and agricultural purposes. For more information or to purchase your metal building, contact us today!