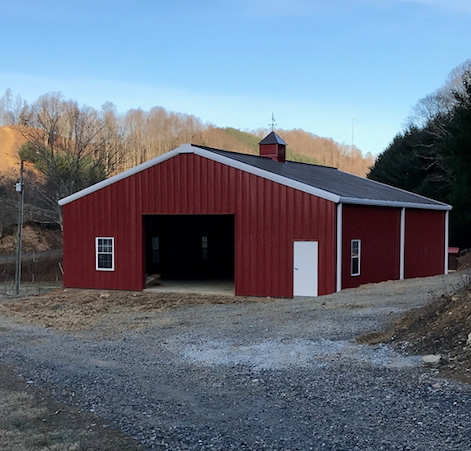 Champion Building has been Ohio's leading choice for steel buildings since 1999. We offer turnkey building solutions that begin with pouring the concrete slab and finishes when your building is solid, secure, and ready for your final touches. 
Whether you are looking for a metal barn, garage kits, or commercial building for a restaurant, we have experienced sales specialists who will help you pick the right building for your specific needs and budget, while our building crew will get your building up and running as soon as possible.  Each one of our structures is built with the highest standards and is made to hold up to years of use and exposure to the elements while still looking new.  
---
Request A Free Quote On Our Metal Buildings in Ohio
---
Advantages Of A Prefabricated Metal Building
Metal buildings have become increasingly popular in Ohio due to their many advantages. Metal buildings are incredibly durable, providing a secure and weatherproof structure that can withstand the harsh winter climates of Ohio. Furthermore, metal buildings require far less maintenance than traditional wood or brick structures, making them an ideal choice for those who are looking for a long-term investment. In addition, metal buildings are often much more affordable than other building materials and can be easily erected and customized to meet specific needs. With their versatility and durability, metal buildings make an excellent choice when it comes to construction projects in Ohio.
High-Quality Commercial Steel
Champion Buildings is dedicated to providing the highest quality materials available for commercial steel structures. They work with leading manufacturers, ensuring their customers receive the best materials available. Their high-grade commercial steel is precision-engineered and designed to meet the strictest industry standards, delivering long-lasting and reliable results. Their steel is coated with a rust-resistant finish that helps provide additional protection against corrosion and wear over time. Thanks to their commitment to quality, Champion Buildings customers can be confident they are receiving strong, durable, and long-lasting buildings that will stand up to their toughest challenges.
Why Choose Champion for Your Steel Building Needs?
At Champion, we offer full-service metal building erection. This means that we're by your side from the moment you begin your search, helping you choose the best building to meet your goals. We have experience designing and helping customers with a wide variety of steel buildings. We serve the agricultural industry with metal barns, farm storage, and agricultural shelters. We also help other business owners with office buildings, daycare facilities, workshops, and many more!
Once you've chosen the right building, including the size, color options, and accessories, and have the plan in place, we take over much of the work. Our dedication to customer service includes all-in-one building erection service which means you don't have to worry. Once the building is complete, you can feel confident it will withstand years of harsh elements, including sun, rain, and wind.
Our Concrete Foundation Solutions
While most Ohio metal building companies require you to source a concrete contractor to pour your slab, we do it for you. We understand that a proper foundation is necessary for your building to be safe and stable. So once our concrete crew determines the ground is properly level, they will pour a concrete slab per the specifications outlined in the engineer-sealed foundation drawings provided. The concrete foundation will consist of pier pads beneath each column, a perimeter footer, 4″ gravel or sand, wire, rebar, plastic, anchor bolts, and a slab thickness per your specifications (typically 4″ – 6″).
Erecting Your Metal Building in Ohio
After the slab has cured, the Champion Buildings, Inc. team will get started, arriving with a flatbed truck that contains the parts and components for your new metal building. We put up your building using high-end materials to make sure your building can withstand years of harsh elements, including sun, rain, and wind. All of our buildings are:
100% Made in the USA using commercial-grade steel
Built with high-strength bolts
Offered with an optional 24 gauge standing seam roof
Clear Span (up to 150′)
Available with a variety of steel building accessories
Available with a large color selection from walls, roofs, and trims
About Our Steel Buildings
All of our buildings are:
100% Made in the USA, Commercial Grade Steel
Prefabricated with All Steel Frames
Use High Strength Bolts
Have optional 24 gauge Standing Seam Roof
Clear Span (up to 150′)
Available with a variety of Steel Building Accessories
Available with a Large Color Selection of Walls, Roof, and Trims
Metal Garages
If you need a safe, secure place to park your car and protect it from the elements, or you want a place to store outdoor equipment and furniture during the off-season, we also sell metal garages. Each of our metal garages are erected with the same care and attention to detail and follows the same guidelines as our other buildings, so you can feel confident it will be an attractive, valuable element. Also, this presents an affordable option compared to having a contractor come out and build a garage on your property. 
Cities in Ohio We Serve:
Cleveland
Akron
Canton
Youngstown
Cincinnati
Dayton
and surrounding cities
---
Contact Champion Buildings For Your Ohio Metal Buildings
Champion Buildings offers the highest quality of commercial steel at unbeatable prices. Get your project started today and experience our superior customer service and exceptional value. Take advantage of our competitive pricing and make sure your next construction project is built with quality, reliability, and affordability. Contact us today to get started!