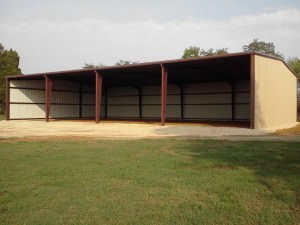 All farmers know the importance of protecting your agricultural equipment, livestock, and other materials. Or, if you are looking for a metal horse barn or metal equestrian facility, Champion Buildings can help! Investing in protection of your equipment is one of the most important investments you can make. If you want outdoor storage or agricultural shelters, these steel structures will endure the test of time.
Farm Owners Prefer Steel Agri-storage and Farm Storage Buildings
More and more farm owners are choosing metal and steel buildings over traditional structures, due to the many benefits they offer. Here are a few reasons to consider a steel or metal building for your farm:
Metal Buildings Offer Shelter & Protection:
It is no surprise that protecting your animals, animal feed, and equipment is essential. Steel is the best material to offer protection, as steel buildings can endure the harsh weather and elements. Also, they are fire resistant and you do not have to worry about termites or rotting.
Steel Buildings Are Low Maintenance:
Steel and metal buildings are easy to maintain and clean. Whereas traditional wooden buildings crack, warp, or are taken over by insect infestations. All of these problems make barns prone to leaking and rotting. Also, whereas a traditional wooden barn will need re-painting, steel structures stay beautiful for years to come.
Affordable Agri-Storage Buildings
Steel and metal buildings are more affordable than traditional wooden buildings. This is because lumber, especially depending on the type, can be very expensive. Then, consider the man hours and labor that is required to build the building. With a metal or steel building, the parts are prefabricated in a steel manufacturing facility. Then, to put the building together, is extremely fast, cutting the construction time by 60-70%.
Different Options and Features for Your Agri-Storage Building
Many people believe that a steel building will just be a metal building with no features. Yet, you have a variety of options for your Agri-Storage building. There is insulation options, building styles, windows, different types of doors and roofs, colors, sizes, and more.
Get your Agri Shelter Farm Storage Today
For more information about agricultural shelters and farm storage, contact the professionals at Champion Buildings. We can help you get your metal building, from start to finish. Our all-in-one solution allows you to not worry about the stress of constructing your agricultural metal building so that you can focus on your farm. Call Champion Buildings at (800) 942-6812 today.
Steel and Metal Building Specials by Champion Buildings
***Package Specials Available in MD, VA, WV, NC & SC, GA, FL and AL
Call for Package Specials in All Other States!!!
*Prices good up to 20lb. Snow Load and 100mph Wind Load
* Upcharge for higher loads
About Champion Buildings' Buildings
All of our buildings are:
100% Made in the USA, Commercial Grade Steel
Prefabricated with All Steel Frames
Use High Strength Bolts
Have optional 24 gauge Standing Seam Roof
Clear Span (up to 150′)
Available with a variety of Metal Building Accessories
Available with a Large Color Selections from Walls, Roof and Trims
Call us to help you build your pre-fabricated Agri-Storage and Farm Storage Buildings today!
Are you interested in getting a pre-fabricated auto shop metal building? For more information or to purchase your metal building contact Champion Buildings at (800) 942-6812. Providing quality metal buildings at an affordable price to the Southeast: North Carolina, South Carolina, Alabama, Georgia, Florida, Maryland, Ohio, Tennessee, Virginia, and West Virginia.  Call us today!