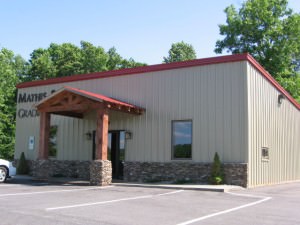 Retail is a growing industry that can sometimes bring rapid growth. With fast moving sales and inventory, you will also need to be able to construct a new space fast. At Champion Buildings, we offer prefabricated metal buildings that can be erected fast so that you can get your retail space open as quickly as possible. Erecting a metal building takes only a fraction of the time that it would take to build a more traditional structure.
A Retail Building Built By Champion Buildings
Purchasing a pre-engineered metal building from Champion Buildings is the perfect option for businesses, especially retail businesses because it can be changed and reconfigured to meet your specific layout needs. Champion Buildings will talk to you about your business and can help make recommendations as to which metal building design & features will best suit your needs. As a recognized leader in commercial pre-engineered metal buildings, Champion Buildings can help you create your steel and metal retail building today.
What About Strip Malls?
Strip malls can also be made out of pre-fabricated metal buildings. If you are a developer looking to create a strip mall in the Mid-Atlantic, let's talk! Whether this is your first development project or you are a seasoned developer, Champion Buildings can help you get your retail space at an affordable cost.
Why Champion Buildings?
Champion Buildings offers an all in one metal building solution. While many of our competitors offer a pre-fabricated building kit or an erection service, Champion Buildings takes care of everything (including the cement slab) from start to finish! Also, Champion Buildings has over a decade of experience constructing these buildings as well as serving our customers' needs. We provide quality product for an affordable price. Call Champion Buildings today for more information at (800) 942-6812
Champion Buildings firmly believes in erecting quality, cost-efficient steel and metal buildings for commercial, and agricultural purposes. For more information or to purchase your metal building contact Champion Buildings at (800) 942-6812. Providing quality metal buildings at an affordable price to the Southeast: North Carolina, South Carolina, Alabama, Georgia, Florida, Maryland, Ohio, Tennessee, Virginia, and West Virginia.  Call us today!