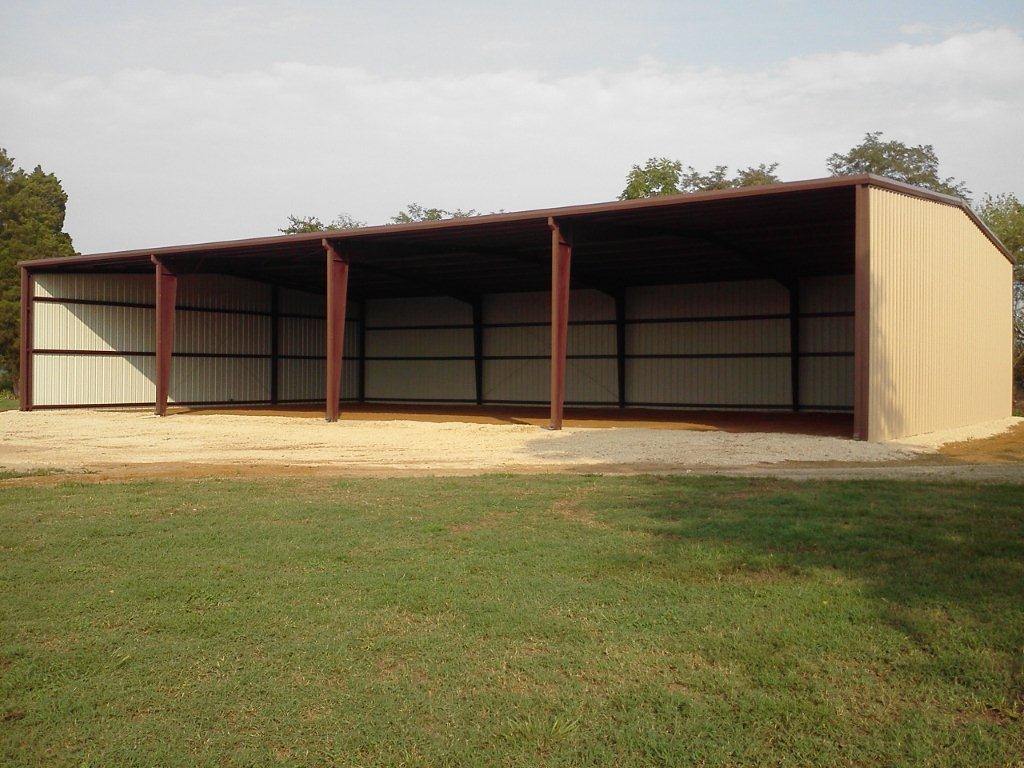 If it's your first time purchasing a pre-engineered steel or metal building for your company or farm, you probably have a lot of questions. Here are some of the most pressing questions most first-time customers have:
How much does a steel building cost?
Is a steel building more affordable than a traditional timber building?
Will a steel building save me money in the long-term?
While many complex variables factor into the initial cost investment of a steel building, which can only be determined by requesting a free estimate from one of our prefabricated building experts, there are some basic pricing fundamentals to be aware.
Prefabricated Steel Agricultural Buildings are Cost Effective
While again emphasizing that there are many factors that determine the price of a prefabricated steel or metal agricultural building, on average the pricing structure looks something like this:
Cost of a prefab steel or metal agricultural building:
Typically ranges in price between $7 and $25 per square foot.
Cost of a traditionally constructed wood barn:
Averages around $45 or more per square foot.
As you can see, right out the gate pre-engineered metal buildings are less expensive than wood. But there are other factors to consider when estimating the total price of your building, such as labor, repairs over the lifetime of the building, wasted materials, and cost of insulating and routine care.
Steel Agricultural Buildings Cost Less in Labor and Waste
As the old saying goes, time is money. And our pre-engineered, turn-key metal buildings are cost-efficient because they are labor-efficient. Our easy, repeatable building designs allow our professional building team to "piece" together your metal agricultural building, having chunks of labor completed before we even arrive on-site. Not only do you save money on labor costs, you also can occupy your building more quickly, which allows you to begin generating revenue as quickly as possible.
And because our metal and steel agricultural buildings are all prefabricated, they fit together without creating waste. We don't have to spend time measuring and cutting wood, inevitably creating wasted tidbits of wood that cost you money.
Metal and Steel Pre-Fabricated Buildings Cost Less in Repairs and Upkeep
Unlike wooden barns, shelters, and other agricultural buildings, metal and steel buildings don't rot. We even have a protective substance that protects against rusting. Plus, steel and metal are far less likely to succumb to weather damage.
Our pre-engineered buildings are easy to maintain and have far less upkeep cost than traditional wood construction. We can insulate them to keep heating and cooling costs low, too. So not only do our prefabricated agricultural buildings cost less in supplies, labor, and time, they also save you money over the lifetime of the building.
Plus, our prefabricated metal agricultural buildings can be as diverse and customizable as you need. We have multiple colors, styles, and creative touches available. Take a look at some of our previous projects to get an idea of what our building professionals can offer.
Get a Free Estimate for Your Pre-Engineered Metal or Steel Agricultural Building
Champion Buildings believes in providing quality, durable, cost-efficient steel and metal prefabricated buildings. We hope this has given you some basic insight into what kind of costs and pricing to expect with your building project. However, every project is different, and there are many variables to consider. For a more specific quote, contact us today at 1-(800) 942-6812 and let one of our experts provide a free estimate for your project!