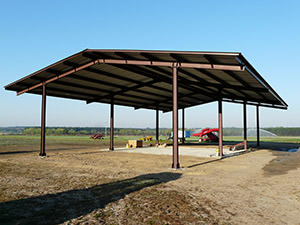 The old saying, "Time is money" is definitely appropriate when it comes to business ventures and  building. How can you be sure that you are reducing your costs when setting up that new barn, car garage or even that new office for your business?
Reduce Cost with a Pre-Fabricated Metal Building
By choosing a metal fabrication as your new building, you can be assured that you have taken the steps to save money. A metal building can provide all the necessary comforts of a traditional building but helps to save time and reduces the waste that can pile up with conventional buildings.  Often, a repeatable building design allows for an ease of construction by allowing the professional building team to "piece" together your workshop prior to arriving on site. A reduced building time means you can occupy that space sooner and begin collecting that revenue!
But at a reduced cost, what am I getting?
One of the great benefits of selecting a metal building is customization. Whether you need a storefront for your business and a roll up garage door around the back, a metal building can be modified to accommodate your needs. Take a look at some of the great accessories such as skylights, fixed windows and customized siding!
Who Can I Trust to Construct My Building?
Our professional building team want to help you maximize your revenue and reduce your overhead costs. For over 16 years, Champion Buildings, Inc., have been helping business and homeowners alike enjoy solid, affordable prefabricated metal buildings to meet all their needs. Call our local number (336) 667-9002 or toll-free (800) 942-6812. You can even reach us by completing our contact form!