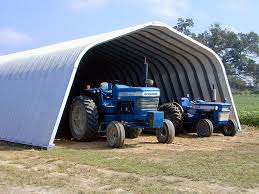 When deciding on an agricultural building, there are many factors to consider. As a farmer, your building is an investment into your business, and you dont want to settle for something that will not last you, or cause you more expenses in the future.  Below are some of the major benefits of agricultural steel buildings, and why you should choose them over alternatives.
Agricultural Steel Buildings Are More Durable
Which would you trust to last longer, Steel or Wood? Steel is the obvious choice for many farmers and ranchers looking for an agricultural building because they will not have to worry about many elements which can degrade the structure and integrity of a typical wooden agricultural building over time.
They will Resist Fire Better Than Alternative Agricultural Buildings
One of the biggest concerns for many agricultural buildings is fire.  Every year many agricultural buildings are lost to a fire, as well as the storage and livestock inside.  This problem can easily be avoided by going with a steel building. A steel building will not catch fire, and you can stay worry free knowing that your metal building will last a long time!
They Will Stay Looking Great!
Over time wooden agricultural buildings rot and start to fall apart due to wind, rain, termites, and time.  Steel buildings will keep their appearance with time much better. They can also be fitted with other materials that compliment their appearance and give them a lasting look that is functional and pleasing to the eye.
Agricultural Steel Buildings Are More Cost Effective
Standard wooden agricultural buildings can cost much more in labor and time than steel buildings.  Our prefabricated steel buildings can be setup quickly which allows us to charge less and provide complete all in one steel building specials.
Champion Buildings offers a variety of metal or steel building options with all of their buildings. For immediate assistance picking out a home, give us a call at (800) 942-6812 or submit your building to us today.