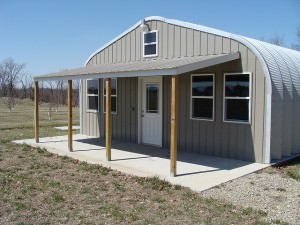 When choosing which type of building to go with, there are many things you need to consider. You want a building that not only will last long, but that is also visually appealing, and will look great over time. Whether you are considering an agricultural steel building, a commercial or residential metal building, or any other metal building, make sure you take these factors into consideration.
Metal Buildings Last Longer
Generally, steel buildings last longer than other options because of the strength and durability of steel. Wood and other materials will rot and decay over time, but steel will retain its strength. It also can withstand weather more effectively and is not impacted by the damage that insects like termites can cause.
Metal Buildings Look Great!
Depending on how the building is designed, metal buildings can have interesting designs and be something you are proud of! We take great care and attention to detail when erecting metal buildings and make sure that it is not only sturdy, but aesthetically well done.
Metal Buildings Are More Cost Effective
Overall, you will save more money if you choose to go with a metal building. They are easier and quicker to build, and require less maintenance which will save you money. You can get much more space and value for your money by going with one of our all in one metal building specials!
<h2>Metal or Steel Building Options Available</h2> Champion Buildings offers a variety of metal or steel building options with all of their buildings. For immediate assistance picking out a home, give us a call at (800) 942-6812 or submit your building to us today.