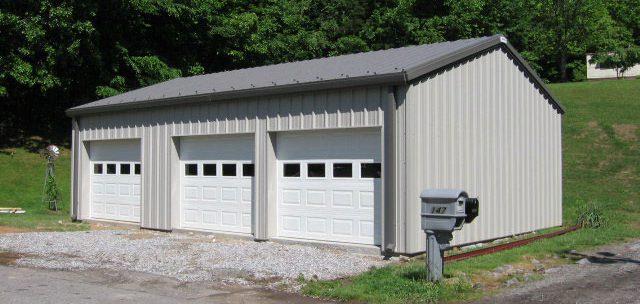 Many people turn to prefabricated metal buildings because they are durable and offer endless possibilities for extra storage space and use. If you're thinking of adding one to your property, you need to know some tips and tricks for getting the most out of your investment. That's what we're here for.
At Champion Buildings, we provide a variety of prefabricated metal buildings for metal carports, metal barns, metal workshops, and much more. Our customizable options make our prefab metal buildings popular because they're functional, attractive, and affordable.
Let's take a look at some of the choices you have if you're considering a prefab steel building as well as some of the benefits.
What Are Prefabricated Metal Buildings?
Prefabricated metal buildings are buildings that have all or part of the building made in a factory. These parts are delivered to your job site and assembled. These prefab steel buildings come with metal building kits that include all the necessary parts to create a building that is durable and versatile.
Prefabricated Metal Buildings vs Custom Metal Buildings
Prefabricated Metal Buildings
With a prefabricated metal building, most of the parts are made ahead of time in a factory. They are assembled as a building kit that a professional can put together and install for you. They come in a variety of sizes to suit your needs.
At Champion Buildings all of our metal buildings are:
Prefabricated with all steel frames
100% Made in the USA, Commercial Grade Steel
Use high-strength bolts
Have optional 24 gauge standing seam roof
ClearSpan (up to 150′)
Offer a variety of metal building accessories
Offer a large color selection from walls, roofs, and trims.
Custom Metal Buildings
A custom metal building is made specifically for your specifications. Dimensions are taken ahead of time so that the size is correct and fits your space. You can pretty much add whatever you'd like since the custom building is tailored for your use.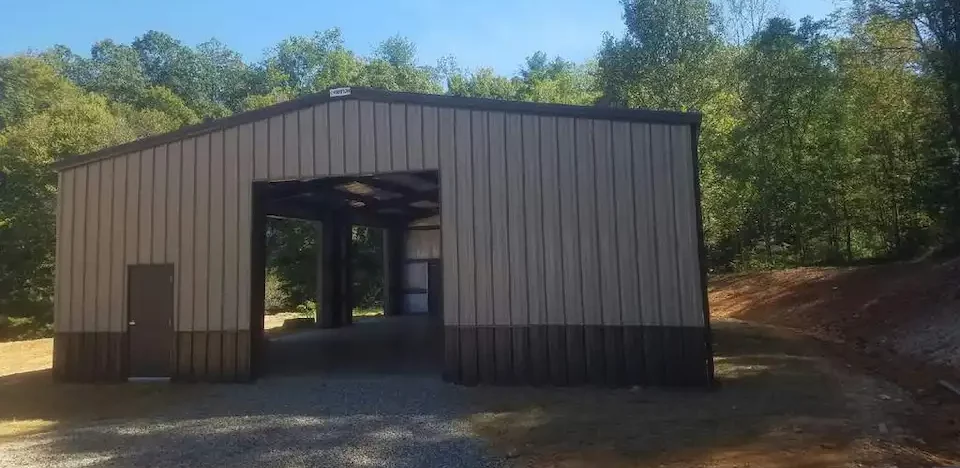 Benefits of Using Prefabricated Metal Buildings
Many people turn to prefabricated steel buildings because they offer many benefits.
Durable
Steel is an extremely durable building material. It can withstand high winds and harsh weather conditions better than materials of other structures. Steel doesn't rot or warp and can last for years to come.
Customizable
Prefab metal buildings are customizable. You can choose the doors, roof style, windows, and layout that best suit your space and your needs. Steel building kits come with all of the necessary parts to get your building constructed and ready to use in no time.
Low Cost
Steel construction is typically more cost-effective than traditional construction that uses other materials such as wood. The foundation to place them is also typically less than if you were using other materials. The cost-effectiveness of these metal structures is part of their appeal. At Champion Buildings, you can count on us to provide competitive prices when it comes to these structures.
Little Maintenance
Steel does not rot and does not need to be repainted, so there is little maintenance that you have to worry about. The surface is easy to clean with just some water and detergent.
Sustainable
Steel is the most recycled material in the world and is more environmentally friendly than other traditional building materials. Steel is so strong that it can be recycled repeatedly without losing any strength.
Energy Efficient
Prefab metal buildings are constructed so that there is no energy lost through windows or building joints. They are built tightly to be energy-efficient no matter the climate.
Adds Value to Your Property
When you add a steel building to your property, you are adding value to it as well. If you are adding it to your home, buyers will appreciate having durable extra storage space. If the metal building is part of your commercial property, it can also be attractive to future buyers who are looking for additional storage or workspace.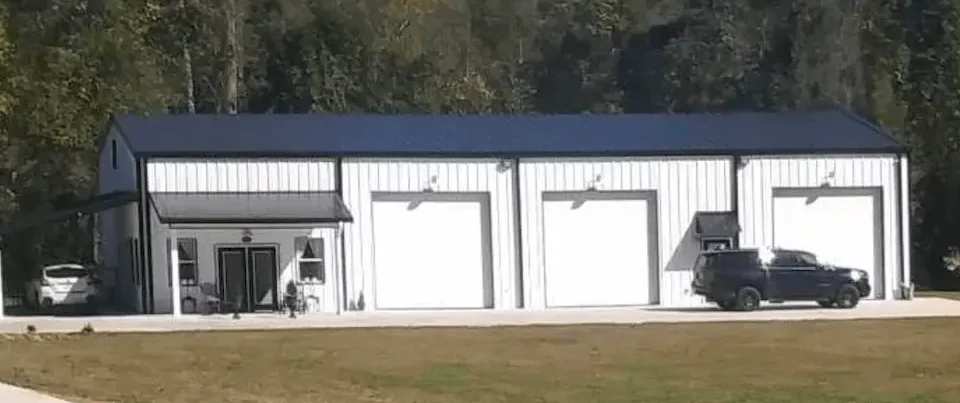 Types of Prefabricated Metal Buildings
There are several different types of prefabricated metal buildings that you can choose from depending on your needs. These include:
Quonset Huts
Quonset huts were originally used by the military during WWII for soldiers who needed quick easy-to-build shelters that they could bring to other locations.
Today, they are known as prefabricated metal buildings that can be used for a variety of purposes. They have durable steel construction that can last a lifetime.
People choose Quonset huts when they are looking for arched roof styles and walls. They are most popular for homes and can be customized in a variety of sizes. Quonset huts can be used as a one or two-car garage as well as for storage or agricultural needs.
Rigid-Frame Steel Buildings
Rigid-frame steel buildings have straight or curved parts that are interconnected with rigid connections. This gives it great stability and allows it to resist movement. It is a reliable design that can be used for a variety of purposes.
These types of structures can be built very large and can be used for airplane hangars, large storage areas, and much more. At Champion Builders, we can go over customizable options for your steel structure so that you are getting the most out of your investment.
Modular/Panelized Buildings
Modular/panelized buildings can be made in a variety of building sizes to suit your needs. These buildings are extremely strong and typically require less manufacturing time because fewer fabrication hours are needed to complete the project.
Tips for Making the Most Out of a Prefabricated Metal Building
Prefabricated metal buildings can be an ever greater investment if you're taking advantage of everything they have to offer. Consider these tips:
Utilizing Wall Space
Don't let the walls of your prefabricated steel building go bare! You can use them to add shelves for storage or to hang items. This will give you more space for what you need in other parts of the building.
Designing with Ease of Access In Mind
You should be able to access everything in your building easily. This means designing it with that goal in mind. Be sure the locations of doors and windows make sense and don't make you lose space or make it difficult to access certain parts of the building. Whether you're using your space as a metal garage, metal workshop, or metal carport, you always want to make sure that the design works for you.
Utilizing Natural Lighting
Take advantage of natural lighting. This may mean that you need to situate your steel building in an area that doesn't have a lot of trees. This way, natural light can come in through windows, making the area more energy efficient.
Maximizing Ventilation
You'll want to maximize ventilation to promote good air quality and prevent any moisture build-up. This may include installing fans, making sure windows are strategically placed, and providing framed openings to allow for natural ventilation.
When you choose to work with Champion Buildings for your metal building, your building specialist can review customization options to maximize ventilation.
Contact Champion Buildings For The Hardest Working Steel Buildings In The Industry
If you're looking for prefabricated steel buildings, one call to Champion Buildings is all you need. We offer the best prices and excellent customer service. Our team is also ready to answer any questions you may have. You'll find that we not only offer the best deal, but also the best metal buildings around.
Our crew provides their own equipment and tools for the delivery and installation of your metal building, so you don't have to worry. For more information, call us today at (800) 942-6812 or contact us online.