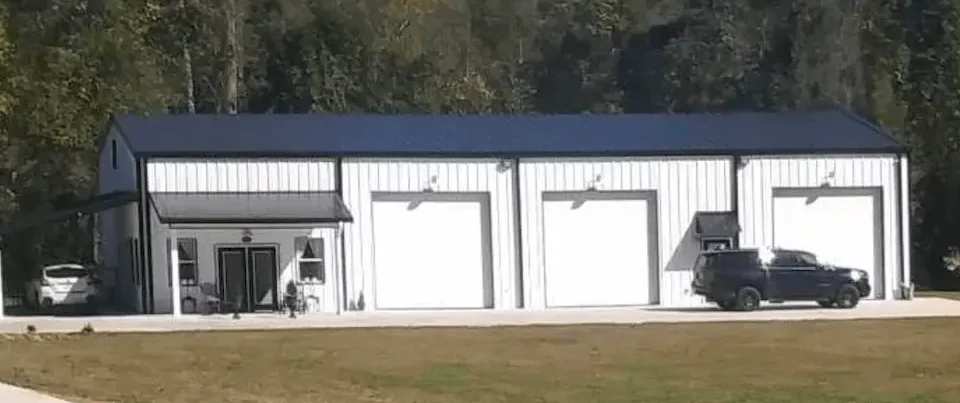 Pre-engineered buildings and other metal building types are becoming increasingly popular as a cost-effective, durable, and versatile solution for a wide range of construction needs.
Champion Building's experts in installing pre-engineered steel buildings are proud to offer our customers the very best in durable, affordable, low-maintenance, and energy-efficient metal buildings. Our pre-fabricated and pre-engineered metal buildings are made for both residential and commercial properties, are erected on-site, and maintain the highest quality of structural integrity for steel structures.
What Are Prefabricated Metal Buildings
Prefabricated metal buildings, also referred to as pre-engineered metal buildings, are structures that are manufactured off-site and then assembled on-site. A pre-engineered building is made from steel or other metal building materials and is designed to meet specific size and structural requirements for a construction project.
Prefabricated metal buildings are popular with homeowners and business owners for a variety of reasons. For instance, steel buildings have a structural framework that is ideal for many industrial and commercial facilities, agricultural buildings, horse barns, storage buildings, residential homes, workshop sheds, and more. Pre-engineered building systems are often used because they can be constructed quickly and efficiently, and are generally more affordable than traditional construction methods.
What is the Difference Between Prefabricated and Pre-engineered Metal Buildings?
Prefabricated buildings and pre-engineered steel buildings are terms that are often used interchangeably to describe the same type of building construction method. Both terms refer to buildings that are manufactured completely off-site in a factory and then transported to the building site for assembly and installation.
The general term "prefabricated building" refers to building components that are constructed of standardized sections and then transported to commercial or residential property sites for assembly. These buildings could be made from a variety of different materials, such as steel, concrete, or wood. The term "pre-engineered building" refers to metal structures that are made from steel or other metal materials, and are designed and fabricated to precise measurements and other structural requirements to assemble a finished building.
Advantages of Pre-Engineered Metal Buildings
Both prefabricated buildings and pre-engineered buildings offer a number of benefits over conventional buildings and construction methods, including faster construction times, lower costs, and more customizable and complex design options.
Some of the major benefits of the various types of steel structures that are the result of pre-engineering are:
Lower cost: A pre-engineered metal building is more affordable than conventional steel buildings since they require less labor and fewer materials.
Faster construction: Since the components of pre-engineered steel buildings are manufactured off-site, they can be easily assembled on-site much more quickly than non-prefabricated buildings.
Customizable design: Pre-engineered buildings can be designed in such a way that all of the building components meet specific size, structural, and design requirements.
Durable and low maintenance: Metal building structures are durable, requiring less maintenance than other materials like wood or brick. Steel buildings are resistant to harsh weather and fire damage, making them the perfect choice for building owners looking for long-lasting, reliable steel structures.
Types of Prefabricated Metal Buildings
Pre-engineered building components can be used to build a variety of different types of metal building structures for commercial or residential properties. Our pre-engineered buildings can be easily expanded, as all the components of our buildings, including wall systems and roof materials, have bolted connections that allow for adaptability to the building's structural members.
Champion Buildings carries many types of pre-fabricated steel structures for our Mid-Atlantic customers, so let's take a closer look at some of the many building types that we build for clients.
Agricultural Buildings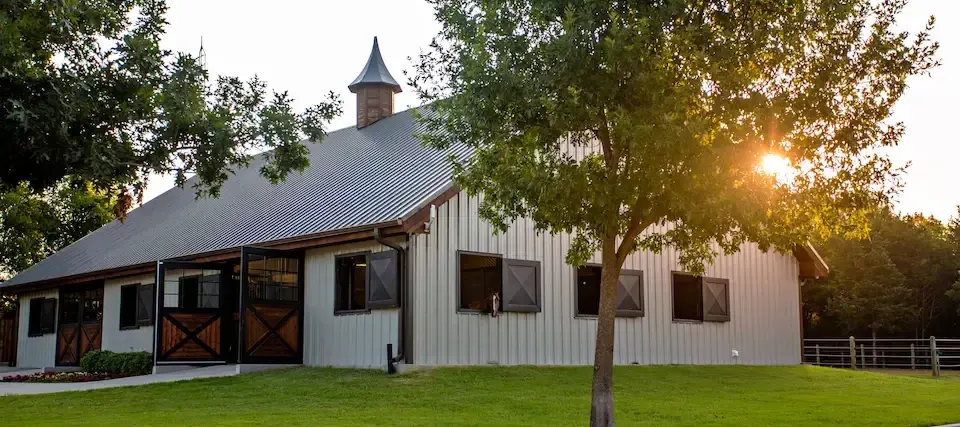 Steel agricultural buildings are structures used for farming and agricultural purposes including any structure where the storage of equipment, livestock, and crops is housed.
Horse barns, steel shelters, agricultural storage facilities, and equestrian riding arenas are some examples of how an agricultural building can be made out of steel materials. These buildings can be customized to include features such as ventilation systems, lighting, and insulation, among other things.
Commercial Buildings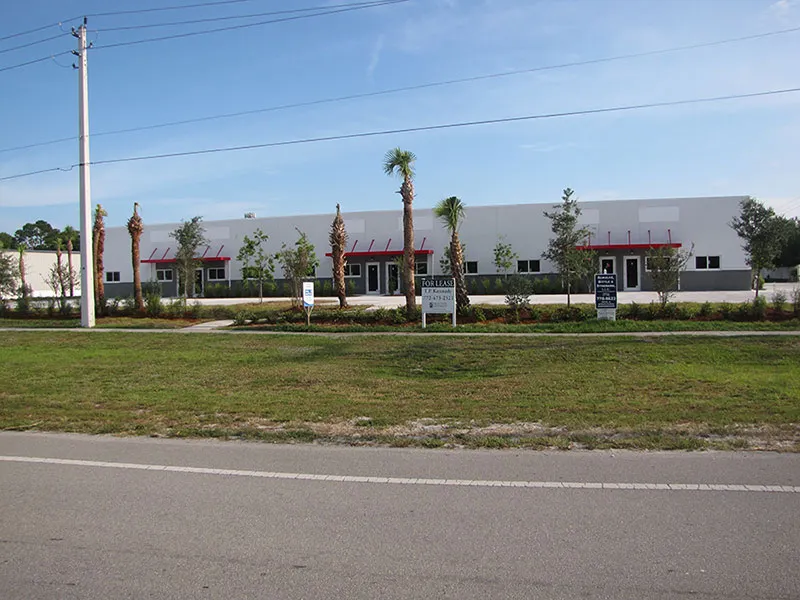 Pre-engineered commercial buildings can be used for a variety of purposes, including retail stores, office spaces, industrial warehouses, aircraft hangars, auto shop garages, restaurants, daycare facilities, breweries, and more. Fully customizable steel structures are a great way for businesses and property owners to cut down on construction time and costs of traditional buildings since all the building components are built off-site prior to the day of construction.
Residential Buildings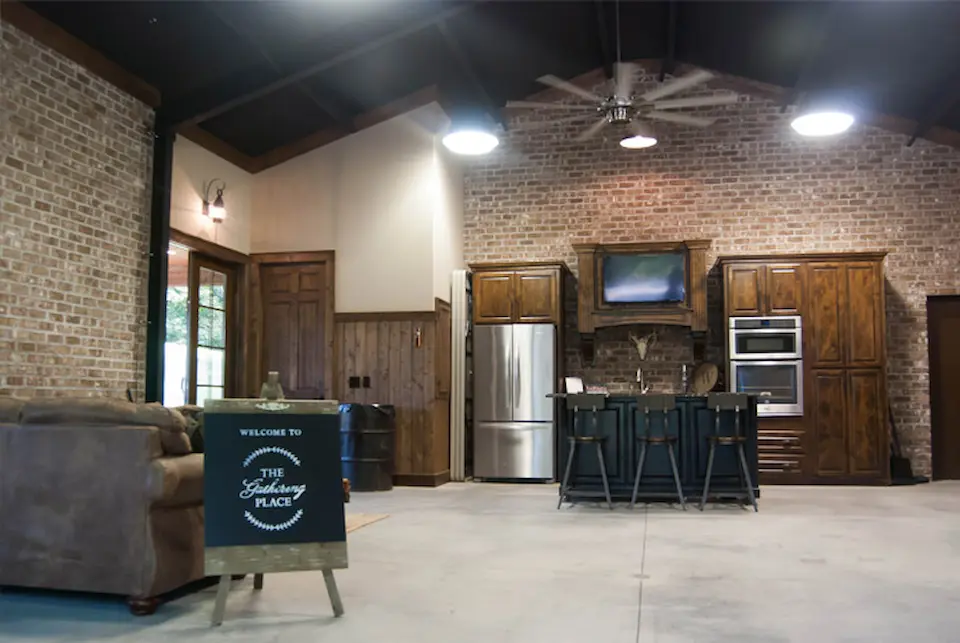 Pre-engineered metal buildings can also be used for residential purposes, such as homes and apartments. They can be designed to include a range of features, insulated sandwich panels, block walls, curtain walls, or other wall systems. Additionally, homeowners can install heating and cooling systems into their pre-fabricated metal homes, as well as include design details for customized interior finishes.
Community Buildings
Pre-engineered recreational buildings can be used for a variety of purposes, such as gymnasiums, indoor sports facilities, fire stations, churches, school buildings, and community centers.
Contact Champion Buildings Pre-Engineered Residential and Commercial Steel Buildings
Our metal building construction specialists at Champion Buildings have been serving customers across the United States for over 20 years. Whether you are looking for pre-engineered residential buildings or commercial steel buildings for your job site, our experts will help you with the design, construction, and installation of a metal building created specifically for you.
Our prefabricated steel structures are built with quality and cost-efficiency in mind and can be adapted for future expansion options if needed. For more information about our services or to purchase your new pre-engineered metal building, call us today at (800) 942-6812 or fill out our contact form below.