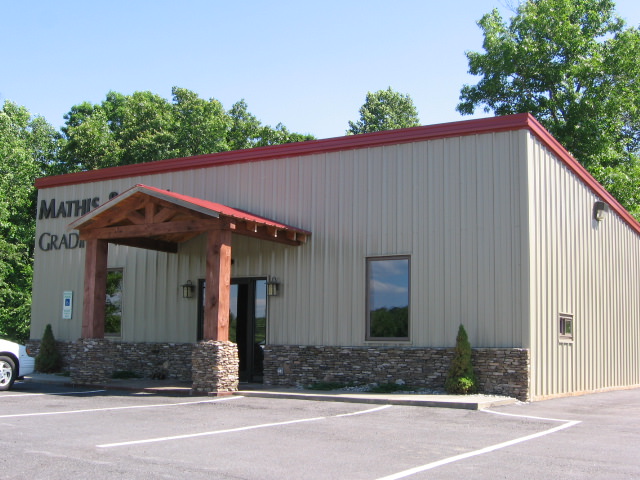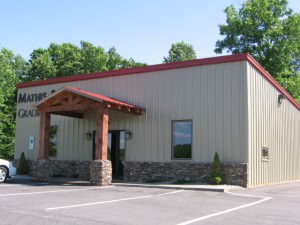 The retail industry is a fast-paced industry that has the potential for rapid growth. A retail building has to be able to keep up with an increasing number of sales and inventory, which sometimes involves needing more space. Having to build or expand a retail space needs to be a fast and efficient process. While a traditional wooden building may seem like the right choice for your store, take into consideration all the advantages that a metal retail store can offer you.
The process of designing and constructing a prefabricated metal building takes significantly less time than a traditional building. Durability, flexibility, construction speed, and cost make a metal building a great choice for retailers.
Having a metal building as your retail space gives you the ability to meet your specific layout needs while having the ability to explore several options to enhance your storefront. The pure strength of a pre-engineered steel-framed building far exceeds other types of building construction.
Durability
Your store should be able to stand the test of time. Steel framed metal buildings are known to have a vastly longer lifespan than traditional buildings. Metal buildings are pre-engineered to handle extreme weather conditions such as deep snows, high winds, heavy rain and high temperatures. Steel buildings are also fire and insect-resistant, mold-proof, and noncombustible.
Metal retail buildings have the advantage of not having to worry about decay from termites or rotting that can happen over time to wooden structures. Wood framing can also warp, twist, or split. Steel framed buildings can hold more weight compared to wood or other materials because of their natural strength.
Low Maintenance
The demands of a wooden building can waste a lot of your time, effort, and money. Steel is one of the most economical building materials there is today. Metal buildings require a lot less maintenance and the fact that they last longer makes them a lot more cost-effective after they are constructed.
Paint on metal buildings lasts a lot longer than paint on wooden buildings, meaning you will not have to repaint your metal retail store as often. Also, metal roofs require lower maintenance than roofs made of other materials. To repair or replace metal pieces on your building is a lot easier and cheaper than it would be for a traditional structure. This allows you to focus more on your retail business than worrying about the building itself.
Construction Speed
Prefabricated steel framed buildings save a lot of time and money on labor. A turnkey all-in-one solution saves time and money with less coordination and time waiting for supplies to be delivered. Less construction time means that your project timeline is shorter and you can get your retail store up and running in no time.
Cost-Efficient
Pre-engineered metal buildings cost significantly less than a traditional wooden structure. Prefabricated metal means cheaper and quicker installation. When building a wooden structure you pay more in labor and materials than you would with a steel framed building. Metal materials that are prefabricated cost less per square foot as well.
As mentioned before metal roofs are lower maintenance and extremely cost-effective because they usually last a lifetime. Regular roofing materials used today only last between 5 to 15 years. It is cheaper to install and repair a metal roof than a wooden one.
Open Layout
A steel framed building has the ability to span up to 150 feet. This allows your retail space to be open and unobstructed. Openness is important in retail stores to ensure that customers have a great experience walking around your store as well as having enough space to store inventory.
Flexibility
As your retail business expands so can your store. The adaptability of a metal structure is a lot easier than a wooden building. If your needs change, your building has the ability to change with them. It is easy to expand and reconfigure steel framed buildings, such as a metal retail store, compared with a traditional wooden building. Prefabricated metal parts can be customized during the manufacturing process. Based on your retail space needs the size, shape, and configuration can be adjusted. This is a great advantage for retails who become short on inventory space and need a solution.
Appearance
Now you may think that metal buildings are not as visually appealing as wooden ones. While this can be true in some cases, there are many products and accessories to make your metal building exactly what you are looking for. Steel comes in a wide variety of colors, shapes, and sizes. Also, you can choose between different installation options, finishes, and textures make steel more visually appealing than before.
Environmentally Friendly
Building green has a great impact on our environment. Steel buildings are extremely eco-friendly compared to their wooden alternative. Steel is 100% recyclable and all materials can be recycled if the structure is ever demolished. The same cannot be said for wood which usually ends up in landfills. People like companies that make sustainable choices and appealing to your buyers as a retail store owner is extremely important.
Lower Insurance Costs
Because of the exceptional strength and durability metal buildings have, as well as their resistance to extreme weather conditions and fire, your insurance cost will be far lower. All the reasons listed above also make insurance on a metal building less expensive than insurance on a wooden building. That is a great advantage for retailers who try to keep business costs down.
Are You Ready for Your Metal Retail Store?
Champion Buildings offers an all-in-one metal building solution. We take care of everything from the concrete slab to the erection of the building. We have over a decade of experience constructing these buildings as well as serving our customers' needs. Call Champion Buildings today for more information at (800) 942-6812. Providing quality metal buildings at an affordable price to the Southeast: North Carolina, South Carolina, Alabama, Georgia, Florida, Maryland, Ohio, Tennessee, Virginia, and West Virginia.