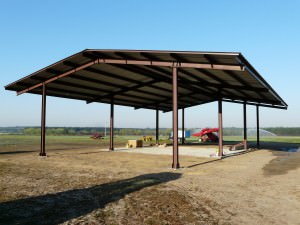 If you're a farmer you probably own tons of acres of land and have your equipment scattered throughout the farm.  It can sometimes be hard to keep up with all of your equipment, especially when bad weather strikes.  Bad weather, especially heavy rain and lightning can result in damage across your farm to not just your livestock but to your equipment as well.  That's why many farmers invest in metal buildings.
Metal buildings come in a variety of forms, and farmers the last few years have found them to be instrumental in  protecting their tools and crops, among other things.
It's important to know what a metal building can and cannot do if you are a farmer.  Metal and steel buildings can help you out in a variety of ways, including:
Protecting Your Tools and Equipment: A agricultural shelter can protect your farm equipment from rain and keep it from rusting.  This is a great product to use when a shelter is not needed.
Feed room: If you're looking for a small storage shelter for animal feed one is available.  Mini-storage units are great for storing animal feed.
Storing Your Equipment or Even Your Animals: Yes, even some animals can benefit from being stored in a metal building.
Remember if you are a farmer in the Mid-Atlantic from South Carolina to West Virginia, there are a variety of options out there for you. To find out what building options are available please call (800) 942-6812 or just contact us through our contact form.