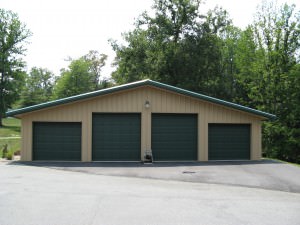 If you are in the market for a new building, you may be wondering what advantages a metal building has over a conventional building. Honestly, it's in the building process and materials. The engineering design structure of a steel or metal building allows for a simple erection process, a solid framework and an energy-efficient structure that fits the needs of the user.
How is a Metal Building Constructed?
A metal building uses a combination of different parts to complete the whole structure. Hot-rolled sections and cold formed parts provide a framework that fits together, and can be covered by a single layer of sheet metal. Adding an insulation barrier makes the building airtight, preventing energy loss from heating and cooling.
Prefabricated metal buildings utilize a nut and bolt approach to secure the pieces of the building versus welding and riveting of conventional buildings. Using the nut and bolt system allows the building designer freedom to add features that the owner of the building may request without compromising the structure.
The construction process is relatively quick. A concrete foundation or piers will need to be set in place prior to fabrication. But, once this has been completed, the metal structure can be erected within days.
The Benefits of These Materials
You can be assured that your new building will have sound engineering, allowing you to enjoy decades of use with limited maintenance.
Here are a few benefits to metal construction:
Low cost of materials
Metal buildings are constructed with few flammable materials
Resistance to wind and seismic pressures
A pre-fab metal building can be built, dismantled and even relocated with ease
Are You Looking for a New Building?
At Champion Buildings, Inc., we are ready to help you with your new garage, church or farm building. Since 1999, we have been providing building services for projects large and small. Let us help you by calling (336) 667-9002 – Toll-Free (800) 942-6812 or completing our contact form!