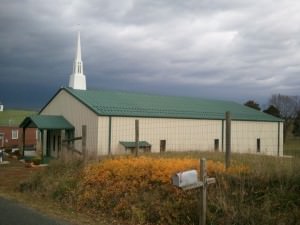 According to statistics from the U.S. Census Bureau, an average of 1000 new churches opened in the United States over the past 20 years. It's not uncommon for new churches to get their start in a converted building vacated by another business, or even share a building with another entity (like a school or theater). However, many churches experience growing pains, making the move to a new building a necessity.
Churches Face Special Challenges
Unlike for-profit businesses, churches face unique challenges when purchasing or custom building a space. Construction projects require a significant amount of capital, and a church's dependence on donations or grants can present a financial difficulty. Additionally, it's essential that the congregation is supportive of the project, since church members will compose the majority of the church's fundraising efforts.
Metal Buildings Are Cost Effective
Choosing a pre-fabricated metal or steel building will save money in several areas, both immediately and in the future. Metal or steel building materials cost significantly less than traditional materials such as wood, stone, or brick and mortar. Opting for a steel building often eliminates the need for costly architectural services, and since steel buildings are so durable, they offer long-term savings in maintenance and repair.
Metal Buildings Assemble Quickly
Compared to more traditional structures, metal buildings are relatively quick and simple to erect. This appeals to do-it-yourself types, as well as those choosing to work with a professional assembly team. Every congregation needs a home, and a steel or metal building is the best way to ensure that a church family is not displaced for longer than necessary.
Champion Buildings offers affordable, high-quality metal and steel buildings across the Mid-Atlantic states.
Whether your church needs more space for youth activities, classrooms for adult education, or simply a larger worshipping area, we have a building size and style to fit your needs and budget. From blueprints to assembly, our turn-key steel and metal buildings are an excellent choice for affordability, durability, and aesthetics.
To find out how a pre-fabricated metal or steel building can benefit your church, contact us today at (800) 942-6812. Already have something in mind? Fill out the contact form below for a free quote!