Metal buildings are getting more and more popular for commercial and industrial uses. There are so many reasons that a person would choose to get a pre-fabricated metal building for their business or manufacturing needs. Here are a few reasons that people choose pre-engineered metal buildings:
Metal Buildings are Engineered Structures
Being an engineered structure, it has been designed by an engineer to meet live load, dead load, wind load, collateral load, snow load, seismic forces, and more. So all of the columns, rafters, bolts, fasteners, etc. also work together to resist the estimated loads. Meanwhile, a traditional structure is not designed by an engineer. The framers will create the framework of the building on the site and use their own experience, using the floor plans and drawings.
Pre-engineered Buildings have Fast Construction Times
Metal buildings are made at the manufacturing plant, which is then sent to the job and is then put together, like a puzzle. This is much faster than having an on-site construction of a traditional wood-framed home. Also, there are no load-bearing walls, in most pre-fabricated metal buildings. This means that you are able to remodel your building very easily, as well as adjust your building as it is being build without many issues. Because the structure of the building is installed by one person, you do not have to deal with working with the many people it takes to build the structure of a traditional building. Most traditional buildings require a framing subcontractor, roofing subcontractor, masonry subcontractor, and more!
Pre-fabricated Metal Buildings are Durable & Efficient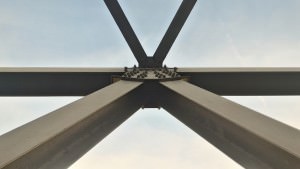 Metal buildings are known for their durability. While traditional buildings use nails, these pre-engineered metal buildings use bolts. These bolts resist the uplift force, reducing the chance of a catostrophic failure in the building structure itself. These buildings can also be insulated, with foam or batt. And, by selecting a light colored metal panel, you can help to keep your energy bills down, due to the reflexivity of the panels. Lastly, these metal buildings are termite resistant and use green construction materials.
Contact Champion Buildings
For more information about metal buildings, don't hesitate to contact Champion Buildings at (800) 942-6812. Champion Buildings provides an all in one solution for your metal building needs. Servicing the Mid-Atlantic area, Champion Buildings serves all of the following states: North Carolina, South Carolina, West Virginia, Georgia, Virginia, Tennessee, and more. We can answer your questions and help you decide which metal building size and features is right for your commercial or industrial needs.