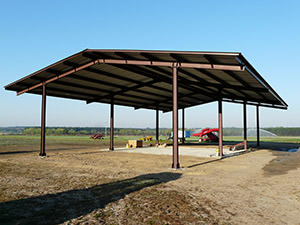 At Champion Buildings, we get a lot of questions from our customers asking about the benefits of pre-fabricated buildings compared to a more traditional construction job. Champion Buildings believes in sharing knowledge with our customers to help them make informed, good decisions in regards to our steel and metal buildings.
Although we have touched on advantages of metal buildings before, we feel it is time to share three more fun facts:
1.       Quick Construction Without Sacrificing Quality
Not only can you save a ton with Champion Buildings' specials, you can also have a brand new metal building in a fraction of the time it would take for a brick and mortar building.
Without having to abide by on-site construction regulations and codes, the process can be pretty amazing. Recently, a 57-story building was created in China in under a month!
2.       Green Building With Benefits
Pre-Engineered homes are built with efficiency in mind, not only will you see more than a 50% savings in energy consumption, there are many fringe benefits of going with a pre-fabricated home.
Taking out a loan to build a pre-fabricated building offers some tax deductions. Even better, by making some environmentally conscious choices, like installing solar panels, solar water heaters and more, you can write off 30% of energy costs as a tax deduction.
3.       Pre-Fabricated Buildings are Low Maintenance
If you have ever rented or owned a traditionally constructed building you know how quickly little repairs add up.
Metal buildings are built with durable parts that do not require much maintenance outside of the occasional surface cleaning. Small differences, such as using screws instead of nails and reinforced joints can make a huge difference in the longevity of your building.
Maybe best of all, if the day comes that you no longer need your steel building, most parts used are 100% recyclable, meaning less waste.
Ready to Consider a Pre-Fabricated Home?
Champion Buildings offers steel or metal buildings across North Carolina, as well as locations across the nation. Contact us today for a free quote by calling at (800) 942-6812 or using our contact form below.