Offering steel and metal buildings to the Charleston area since 1999, Champion Buildings is an SC metal building company, providing quality work that will last for years. Whether you are still determining which metal building will best suit your needs or you are ready to buy, contact us!
The Benefits of Our Metal Buildings in Charleston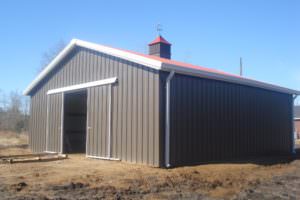 If you are still in the early stages of the process, where you are gathering information and deciding if you want to invest in a metal building, we are here to help educate you about the process and what to expect.
Once you have decided to invest in a metal building, we can offer guidance and insight into which metal building will be best for your needs.
Then, we are there to take care of everything from start to finish! You do not have to worry about laying the concrete or installing the metal building, we do all the work for you! Along with setting everything up, we will make sure that everything is put together correctly and that it meets our quality standards.
Most of our competitors only provide the installation of the metal building, where they will require that you already have the cement laid. Yet, we understand that the process is a lot less stressful if we can do it all for you. Want to know more? Check out our customer reviews and contact us!
Contact Us for Your Metal Building in Charleston
Take a look at some of our metal building specials, or contact us to get started with your Metal Building in Charleston, SC today! We also provide steel and metal buildings to all areas of South Carolina, to include, but not limited to Columbia, Greenville, Spartanburg, and Summerville. Call us today at (800) 942-6812 for all your metal building needs!