Do you need a steel or metal building for your commercial or agricultural needs in Berryville? There's only one company you need to call: Champion Buildings! For over fifteen years, we have been providing the entire Virginia area with metal building services and we're proud to offer our services in Berryville, as well. Our company has a vast array of offerings,
Agricultural Buildings in Berryville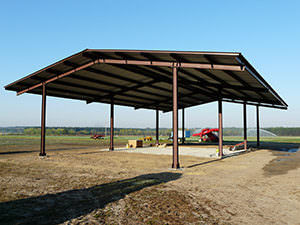 Here at Champion Buildings, we understand that there's no one-size-fits-all for farmers, cattlers and ranchers. The needs you have will vary depending on the products you produce. As one of the mid-Atlantic industry leaders in metal buildings, we want to help provide you with all of the relevant information so you can make the best investment for your business and your budget. We know what it takes to last. Our agricultural buildings are engineered to withstand the heat, the weather, and the terrain. You need a building made from the highest quality materials if you want it to last.
Our buildings will meet all local building codes. And since steel buildings are quicker to construct than traditional agricultural buildings, you'll be able to quickly get your business back in functioning order. We can assess your specific needs and offer you a turnkey building solution that's right for you.
Metal Buildings With Concrete in Berryville
Champion Buildings provide complete prefab metal buildings construction in Berryville. Before we take on a project, we want to make sure that the foundation of where the metal building will be placed is in order. This includes removing any obstacles that would cause the land to be obstructed. This can help us to evaluate the amount of ground leveling that we will need to do.
The next step of our process is to pour the concrete over the plot of land. After the concrete is poured, we then erect your prefab metal building.
Get Your Metal Building Today!
When you are ready to purchase a metal building, we can help you decide which type of building and what size building will be best for your needs. Whether you are looking for a metal barn, a metal fire station, or a metal garage – we provide it all! Once you decide the size and type of building, we do all the dirty work! Unlike most companies that require you to have the cement foundation already laid, we lay the cement and erect your metal building, which means less stress for you and more time to do the things you enjoy.
At Champion Buildings, Inc. we make sure you get a quality metal building that is constructed properly and meets our high-quality standards. If you have a moment, please review our customer reviews– they say it all! Also, check out our current metal building specials to ensure that you are getting the best price possible! We are eager to help you achieve your metal building goals.
Contact Us for your Metal Building Needs in Berryville!
We're the best pre-engineered steel building company in Virginia, and we stand by our work. We use top quality materials that will last a long time so you know your investment is protected. Give us a call today! Our experienced professional installers can explain your options and which building will work best for your project, as well as get your building set up quickly. We offer metal building services in Lexington, Leesburg, Berryville, Middleburg, Purcellville, Remington, Charlottesville, Lynchburg, Richmond, Virginia Beach and all of the surrounding areas!  Contact us for any questions or service request.