Are you interested in a steel or metal building to offer you additional storage or commercial space for your Columbia, SC home, office, or property? Contact us, Champion Buildings, at (800) 942-6812! We have provided our customers with pre-fabricated metal and steel buildings in South Carolina since 1999. We can work with your needs and your budget to find you the best building.
Champion Buildings' Metal Building Services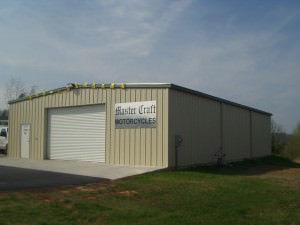 Whether you are still gathering information and determining a budget or you are ready to buy, we are here to help you through all stages involved in this process.
Once you have determined that you want to invest in a building and have narrowed your budget, we will help you by offering suggestions and input on the best metal building for your individual needs. To do this, we would go over what your needs and requirements are.
After choosing a metal building, we do the rest! Whereas most companies will require you to lay the cement foundation before constructing the metal building, we lay the cement AND assemble your metal building, so that you have less to worry about. We make sure that your metal building is constructed properly and meets our quality standards. When you have a moment, check out our customer reviews– they say it all!
Metal Buildings With Concrete in Columbia
Our metal buildings company in Charleston provides the complete full experience for erecting your building. We start off your project by clearing the plot of land that you want your metal building built on by removing obstacles such as trees or debris. This will allow us to work on a cleared piece of land for proper structuring. We then would measure and level the land to have an optimal flat surface to build on.
The next step of our process is to pour the concrete over the plot of land. This is the foundation that the mental building will be constructed on so it is important to have a professional metal building company perform this step. After the concrete is poured, we then erect your prefab metal building.
Contact Us About Your Columbia, SC Metal Building Today
In the meantime, feel free to look at some of our metal building specials. Please do not hesitate to contact us with any questions. We are eager to hear about your Columbia, South Carolina metal building needs! Please keep in mind that we serve all areas of South Carolina, to include, but not limited to Charleston, Greenville, Spartanburg, and Summerville.