Steel and metal buildings are versatile, durable, and affordable, and if you're considering having one installed for commercial purposes, or improve storage on your property, we can help. Champion Buildings has been selling and installing pre-engineered metal and steel buildings in and around Greenville, SC since 1999. With a wide variety of sizes, styles, and customization options, as well as turn-key installation packages, we make it cost-effective and efficient to get the metal building you need.
Request A Free Quote On Our Metal Buildings in Greenville
---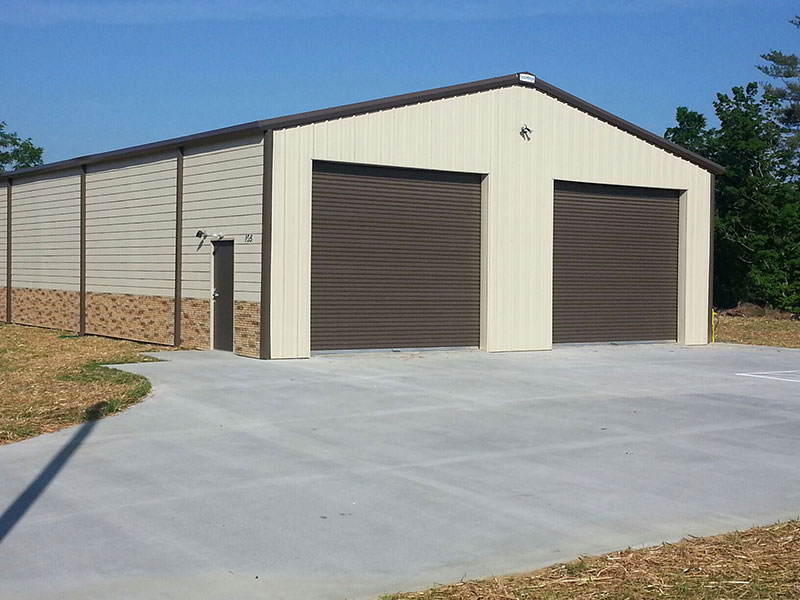 Commercial Metal Buildings in Greenville, SC
With building materials, including wood, rising in price and becoming more scarce, more business owners and developers are turning to pre-fabricated metal buildings to house their enterprises. Today, we work with all types of businesses and organizations to design customized structures for:
Recreation centers
Municipal buildings
Metal and Steel Buildings for Farming and Agriculture
Whether you have a small hobby farm or hundreds of acres dedicated to growing crops or keeping livestock, when you need a barn, our metal agricultural structures are increasing in popularity. We have a variety of building types available, including tool sheds, equipment garages, barns for livestock, and riding arenas, or they can be customized into multi-purpose structures.
Metal Garages and Storage Buildings
If you need additional storage for equipment, furniture, tools, and other items, or you need a place to protect your car, RV, or boat from the elements, our metal garages fit the bill perfectly. From multi-storage garages that protect your vehicles, to a garage-workshop space, we can help you create the perfect plan at an affordable price.
The Benefits of a Pre-Engineered Metal Building
Instead of choosing wood, brick, or other materials for your new project, a prefab metal building offers multiple benefits.
Customization
Steel buildings offer limitless customization options. Not only does this include colors, types of doors, and accessories, but the open interior layout makes it possible to have more open space, wall off areas for different types of storage or use, or create convenient lofts. Our team will work with you to create the right layout and features that work best for your needs.
Affordability
Steel and metal sheets and building materials to erect the building are significantly less expensive than brick and wood, and fewer materials are needed to install the building. Thus, the cost of construction is significantly reduced.
Rapid Installation
Even small garages and storage buildings can take weeks or months to build from traditional brick, concrete blocks, siding, or wood. A prefab metal building can be up and ready for use in a fraction of the time.
Environmentally Friendly
Steel is one of the more sustainable construction materials available, and can be recycled with ease without losing structural integrity, making it an eco-friendly building material. Steel is also energy efficient and can be insulated more effectively.
Low Maintenance
Metal buildings aren't susceptible to termites, sagging, or warping like wood and other materials and shingle roofs can leak over time. Our highest quality steel and paint means you don't need to worry about rust, chipping, denting, roof leaks, or other issues.
Low Cost of Ownership
Often, low maintenance translates into low cost of ownership. Because steel is fire retardant, steel structures are often less expensive to insure, too.
Erecting Your Custom Steel Building
Unlike building a wood or brick building, erecting a prefab steel building is significantly quicker and easier than you might think, especially since our team does all the work with our included turn-key installation services. After you have chosen the size and customization options for your building, all we need from you after that is a  clear path on your property. We build the parts and manufacture the base, frame, and structure and our quality assurance team provides thorough inspections to ensure perfect quality. Before construction, we send a team out to ensure your land is level and pour the concrete foundation to make sure your building is structurally sound and level. Every concrete pad includes pier pads beneath each column, a perimeter footer, 4 inches of gravel or sand, wire, rebar, plastic, anchor bolts and a slab thickness per your specifications (typically 4″ – 6″). Once it's dry and cured, we'll arrive with the building materials and components on a flatbed truck and get to work to install it. Every metal building we manufacture and install includes:
100% Commercial-grade steel that is made in the USA
Prefabricated with 100% steel framing
High-strength bolts
Clear span of up to 150 feet
Contact Us to Design Your Metal Building in Greenville, SC
If you would like to learn more about metal and steel buildings or you're ready to sit down and start designing the building you need, reach out to Champion Buildings, Inc. We are dedicated to making sure each customer gets a properly constructed, long-lasting building that can hold up to harsh weather and maintain its structural integrity as well as its beauty. Give us a call today at 800-942-6812 or fill out the form below to get started.