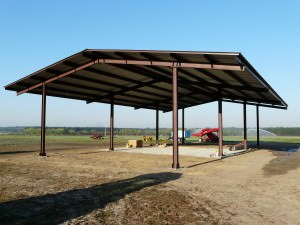 We understand that Macon has a proud heritage. From the gorgeous architecture to the storied musicians who used Macon as their inspiration, Macon has a lot to be proud of. We want to help you expand your home or business with a metal building. Don't disrupt the history and beauty of Macon by tearing something down or remodeling – we can bring our services directly to you and install a standalone metal building painlessly. Champion Buildings provides metal and steel buildings to all of Georgia, to include, but not limited to, the following cities: Atlanta, Alpharetta, Marietta, Sandy Springs, Athens, Warner Robins, Columbus, Augusta, and more! With many years of experience installing quality metal buildings find out how we can serve your commercial or storage needs.
---
Request A Free Quote On Our Metal Buildings in Macon
---
Why Should I Build a Metal Building in Macon?
Metal and steel buildings have a wide variety of benefits, but there are three huge reasons to call Champion Buildings for your next building project:
Longevity. Metal buildings are durable and don't wear down to the elements as easily as other buildings.
Cost. Compared to other building options, putting up a metal building or shelter is considerably less expensive.
Maintenance. There's very little ongoing maintenance required for these buildings, which keeps your cost down – just a simple scrub once a year will do.
There are plenty of other reasons to build a metal building that we can't cover here, so contact us today to find out more!
Metal Buildings with Concrete in Macon
Most companies require you to handle a lot of the pre-construction work on metal buildings. Champion Buildings is different. We are proud to offer an all-in-one solution that keeps the process simple, efficient, and stress-free. We're with you for every step of the process:
You won't need to contact ten different subcontractors when you work with Champion Buildings. Not only do we oversee the whole process from start to finish, our team will make sure each building is specific to your needs, from the building features to the metal building size.
Macon Metal Building Contractors
Here at Champion Buildings, we pride ourselves on customer satisfaction. We have designed the entire process to be as simple and painless for the customer as possible. But don't take our word for it: hear what our customers had to say. Be sure to take a look at our metal building specials to ensure that you are getting the best price possible! We are eager to help you achieve your metal building goals.
Get Started With Your Building Project Today
Are you interested in getting a pre-fabricated metal building? For more information or to purchase your metal building contact Champion Buildings at (800) 942-6812 or fill out the form below. Providing quality metal buildings at an affordable price to the Mid-Atlantic: North Carolina, South Carolina, Georgia, Virginia, Tennessee, and more!