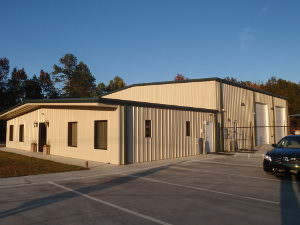 Champion Buildings has been providing NC Metal Buildings since 1999 and we have the experience you need. Our professional team can get you started with a prefab building that will last longer and look great. Many of our customers love how we are able to take care of the entire process and that they do not have to do any of the work. Some of our competitors require you to lay the concrete yourself, but we know how much of a hassle that can be. From start to finish, our experienced metal building team will make sure your project is done right.
We pay close attention to detail and make sure that every part of your building is built to our specifications of quality. If you are unsure about what you need, or which building will be best for you, feel free to let us know and we can help you. We provide steel buildings for a variety of uses, including mini storage, auto service garages, offices, agricultural shelters, and more! We want all of our customers to be satisfied with their metal building, and we will take the time to make sure it is done right from the start.
Metal Building Solutions for Charlotte
Known for the second largest banking capital of the United States, Charlotte has a variety of people including those in need for a turnkey metal building solutions. Since 1999, Champion Buildings has been building and supporting metal buildings in the Charlotte area including Albemarle, Boone, Belmont, Concord, Dallas, Gastonia, Hickory, Huntersville, Indian Trail, Lenoir, Lincolnton, Monroe, Mooresville, Salisbury, Taylorsville,  Lake Wylie, Lake Norman, Rock Hill SC, Fort Mill SC and more!
We aren't going to just sell you a pre-engineered building kit and let you figure things out on your own; we are a full-service team from start to finish. In the beginning, we'll have a consultation with you about what is the right size, shape, and design for you.  Once you've purchased your all-weather resistant product, we'll be there to lay the foundation, build the kit and finish the product; just make sure you are satisfied with our business. From start to finish, Champion Buildings is there for you. You can get more information on our concrete & erection services, or look at our other service areas in North Carolina, South Carolina, Georgia, and Tennessee.
Metal Buildings With Concrete in Charlotte
Before your building can be erected, there are some things that need to be done first. Having a clear plot of land, removed of trees, shrubs, debris, etc. is needed before you can measure to make sure that the land is level and flat. Having an uneven ground to lay the concrete foundation can cause the building to sit imbalanced on the concrete slab, disrupting the stricture of the building.
Once the initial cleanup and formatting of the land have been completed, we would then pour the concrete over the area where your new metal building will be placed. Once the concrete is poured, we then erect your prefab metal building. Your metal building with concrete should now sit sturdily on the newly built foundation.
Contact Us for Your Metal Building Project
Take a look at some of our metal building specials, or contact us to get started with your Charlotte metal building project today!
Are you interested in ordering a pre-fabricated metal building? Champion Buildings provides high-quality metal and sheet buildings in North Carolina including Charlotte, Greensboro, Asheville, Apex, Boone, Wilmington, Greenville, Fayetteville, and other cities. For more information or to purchase your metal building contact Champion Buildings by phone or fill out our contact form. Providing quality metal buildings at an affordable price to the Mid-Atlantic: North Carolina, South Carolina, Georgia, Virginia, Tennessee, and more!