If you're considering using a metal building for your business or you want to add functional, durable storage to your residential property, Champion Buildings is here for you. Since 1999, we have helped our customers design custom metal buildings in Greenville, NC and offer turnkey construction and installation services. Today, we make it our mission to help our clients get the building solutions they need at a price they can afford.
Request A Free Quote On Our Metal Buildings in Greenville
---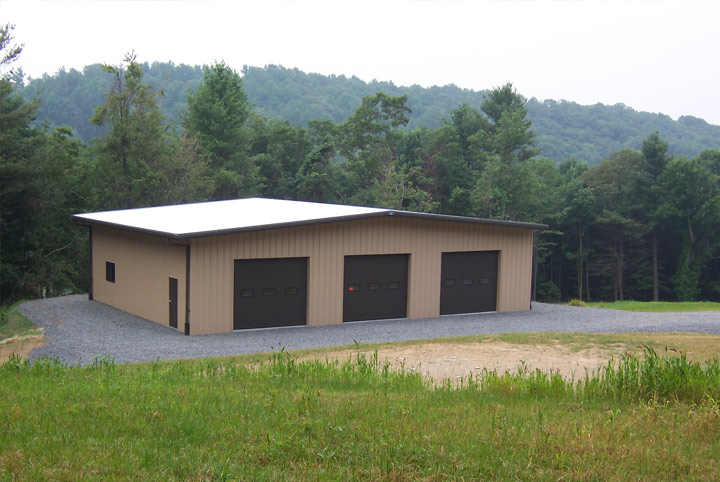 Commercial Metal Buildings in Greenville, NC
When you're building a structure for commercial use, you need it to be durable, long lasting, and cost-effective. With wood and lumber prices skyrocketing along with the rising costs of labor and maintenance, more business owners, developers, and investors, are turning to metal buildings for commercial use.
Why Choose Steel for Commercial Building?
Unlike wood, stone, and traditional building materials, steel offers unique benefits for commercial use.
Affordable – Compared to wood and stone, steel is significantly less expensive, plus, less labor is required to install a metal building, bringing the costs down.
Eco-friendly – Steel is a sustainable material that can be recycled easily without degrading, and no trees need to be harvested.
Energy-efficient – Steel buildings are energy efficient and can be insulated more effectively to keep it warm and cool.
Customizable – Steel buildings don't require the load-bearing walls that traditional construction needs, giving you a blank slate to design your floor plan needs. Create a wide open layout or place walls that work for your needs. You can even add a loft for added storage.
Low-maintenance – Metal buildings with steel roofs require minimal structural maintenance. The colors hold up to sun, rain, and harsh elements, you don't need to worry about pests like termites causing damage or shingles leaking.
Fast installation – Traditional construction can take weeks, even for small buildings and require a variety of work crews with different skills. Prefabricated steel buildings can be erected in a fraction of the time that traditional wood-framed buildings are built.
Low cost of ownership – The lower maintenance and energy efficiency minimize operating costs, plus insurance on steel buildings is often lower due to less risk of fire damage.
Uses for Commercial Metal Buildings
There are a wide variety of uses for commercial metal buildings, including:
Recreation centers
Municipal buildings
Car lots
Repair shops
Agricultural Metal Buildings
For North Carolina farmers, agricultural metal buildings are also versatile and effective. When you need a barn to keep livestock, store large equipment and machinery, or keep your tools safe, we can help you design a metal barn that will meet all your needs, including single, multi-purpose structures. If you have horses, our metal buildings also make ideal equestrian riding arenas for giving lessons or practice.
Metal Garages and Storage Buildings
In addition to commercial and agricultural use, our prefabricated metal buildings can be used for residential property storage. Protect your car, boat, or recreational vehicle with a steel garage or carport, create an affordable storage solution for your lawnmower and outdoor furniture, or design a completely customized multi-purpose space for a workshop and garage combined. We can help you design an option that will fit your property and your budget.
Our Turnkey Construction Process
After you sit down with a consultant to design the ideal building, our team gets to work. We strive to make this a simple, fast, hassle-free process, so all you need to do is clear a path on your property for our team to get to work. We manufacture everything necessary to construct your building right here in North Carolina. While the manufacturing is taking place, we send out an experienced concrete team to level and pour a concrete pad to provide a structurally sound foundation. Every concrete slab includes pier pads, a perimeter footer, plus gravel, wire, rebar, and anchor bolts as well as the four to six inch concrete base. Once it's dry and your materials are ready, our team will deliver them and begin installation. You'll be amazed at how quickly a steel building is installed, especially compared to traditional construction. All of our buildings are protected by a one year warranty and include:
100% Commercial-grade steel that is made in the USA
Prefabricated with 100% steel framing
High-strength bolts
Clear span of up to 150 feet
Learn More About Our Custom Metal Buildings in Greenville, NC Today
For commercial, agricultural, and storage purposes, metal buildings are a cost-effective, reliable option, and no one does them better than Champion! To learn more about our custom built steel buildings and to start the design process, reach out to our team today at 800-942-6812 or fill out the form below to get started.
Contact Form Champion Buildings