Here at Champion Buildings, we're proud to provide prefabricated metal and steel buildings to everywhere in the Mid-Atlantic region, including the Middleburg, VA area! Metal buildings are a great, cheap alternative to standard buildings and provide plenty of space for storing livestock, crops, and farm machinery or equipment. If you're interested in steel or metal building services, you can contact the Champion Buildings team at 1-(800) 942-6812. Our experts can help you find the right building that fits your needs and your budget and can help you customize your farming solution based on your industry.
Middleburg Complete Building Solution for Metal Barns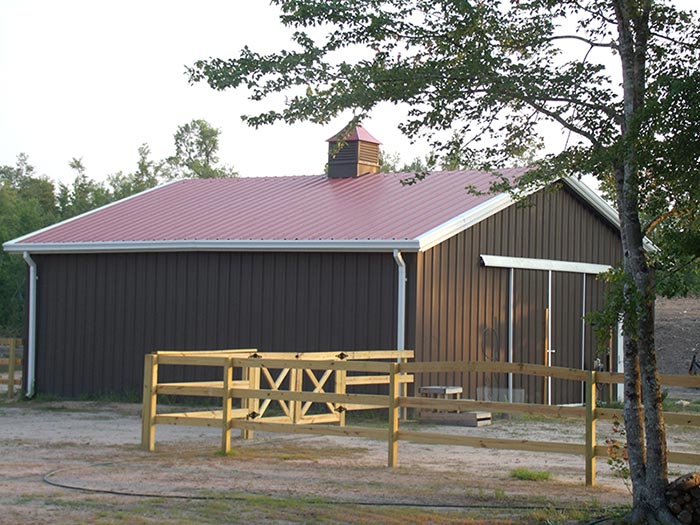 Named "Nation's Horse and Hunt Capital", Middleburg is a great place for friends and families interested in recreational horse riding, polo, and equestrian activities.   Therefore, building a metal, steel building to house horses is a necessity because it is economically smart and durable.
When deciding on the next company to do business, Champion Buildings is an easy decision because we will work with you from start to finish.  Other steel and metal building companies outsource a lot of the primary jobs, but we will see the total process from the beginning to the end.
Therefore, when it comes to agricultural buildings and equestrian stables, Champion Buildings is truly the champion for metal barns and garages.
Metal Buildings with Concrete in Middleburg
When you choose to purchase a metal building from Champion Buildings, you not only get a high-quality building, you get an all included service. We are here from start to finish and the best part– we do all the hard stuff.
Unlike our competitors, we do everything from laying the cement foundation to constructing the building. All you have to do is decide what building you want and where you want it! Check out our current metal building specials to ensure that you are getting the best price possible! We are eager to help you achieve your metal building goals.
Contact Champion Buildings Today!
Are you interested in getting a pre-fabricated metal building? Or maybe you just want a bit more information? Perhaps you'd like to just speak to an expert to learn about your options and get a recommendation for your specific project. No matter the reason, for more information or to purchase your metal building contact Champion Buildings at (800) 942-6812. Providing quality metal buildings at an affordable price to the Mid-Atlantic: North Carolina, South Carolina, West Virginia, Virginia, Tennessee, Alabama, Florida and more!