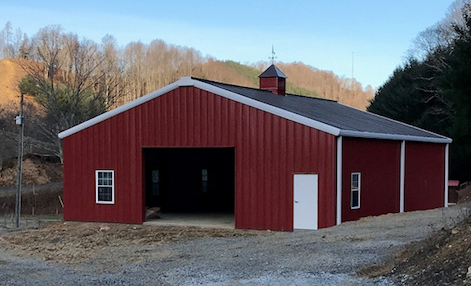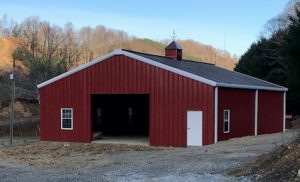 Since 1999, Champion Building has been the leading choice for metal buildings in Columbus, Ohio. With our customization options and design assistance, we make it easy to get the exact building you need at a price you can afford, while our turnkey installation and unbeatable craftsmanship offer a hassle-free solution.
---
Request A Free Quote On Our Metal Buildings in Columbus, Ohio
---
Commercial Metal Buildings
Today's land developers and business owners are turning to steel for their commercial construction needs because it offers a low initial cost and a lower cost of ownership and maintenance than traditional building materials. Also,
commercial metal buildings
offer more customization opportunities because their framing doesn't require load-bearing walls. If you are seeking an open floor plan or a more non-traditional layout, a metal building may offer the versatility you need. At Champion, our metal buildings are used for all types of businesses and commercial buildings, including:
Metal Garages and Carports
Whether you need a building to protect your vehicle, boat, or RV, or you have commercial vehicles to protect, our metal garages can be customized to the dimensions. By offering the same protection from the elements that a traditional building has, you can use our garages for equipment and lawn care storage, outdoor furniture, and tools. Want a workspace for a hobby or to restore an old vehicle? Our steel buildings can be used for multi-purpose functionality to include a carport or open side as well as an enclosed section that's wired for electricity. Our design team will help you choose the best option. For large-scale garages, including airplane hangers and vehicle fleets, we can construct these, too. Our design team will provide you with the insight necessary to get the best structure for your needs.
Agricultural Metal Buildings
If you have a farm, having a secure barn to keep your equipment, seed and grain, and livestock protected from the elements is essential to your operation. We manufacture custom
metal barns
, farm storage, and
equestrian riding arenas
as well as construct multi-purpose buildings and steel shelters that are open on the sides for an affordable option.
Building Your Columbus Steel Building
Champion Buildings, Inc. offers turnkey solutions so you get the building you need without any hassle. We will sit down with you to help you design the perfect building for your uses. Then, we'll send the design to our manufacturing center where your building will be fabricated from 100 percent made in the U.S.A. commercial-grade steel. While the building is in the manufacturing center, we will send an experienced, insured concrete team to your site with engineer-sealed foundation drawings to get the slab ready so there's a solid, secure foundation upon which to construct the building.  The concrete foundation will consist of pier pads beneath each column, a perimeter footer, four inches of gravel or sand, wire, rebar, anchor bolts, and a slab thickness per your specifications. After the concrete slab has cured, we will send our team to deliver and construct your new buildings. We send all the parts and components on a large flatbed truck, and our team has everything they need to do the job right from start to finish. When it's done, your beautiful metal building will be ready to withstand years of harsh cold, sun, rain, and severe weather without rusting, denting, or having other problems.
 Benefits of a Steel Building
Whether you need a retail store, office building, or garage, there are multiple reasons to choose a steel building over traditional wood, brick, or concrete.
Customization
Steel is versatile and we offer a variety of customization options including:
Insulated metal wall panels for improved efficiency.
Parts and components that allow you to create different bases, openings, framing, and accessories;
Size and layout options so you can have the space you need to meet your goals;
Color choices so you can match your building to your home, business, or aesthetic preference.
Building accessories, including metal roofing options, prefab HVAC ductwork, gutters, awnings, and so much more.
Fast Construction
Once the slab is poured and our team is on-site, we can have your building ready for further construction in a much shorter time than it takes for traditional materials.
Affordability
Steel buildings can be installed at a much lower price than wood, brick, and concrete. Not only are the materials less expensive, but the labor involved in construction is significantly lower.
Sustainable
Prefab metal buildings offer an eco-friendly option to traditional construction. Steel is easily recycled and reused without degrading the metal, there is minimal waste involved, and no trees are cut down. Once the building is constructed, it's easy to improve energy efficiency with thicker insulation than is used in traditional construction.
Low Maintenance
Metal buildings don't require the maintenance and repairs traditional buildings often need, including termite and pest repair, moisture problems, including warping and wood rot, and leaking roof shingles.
Start Your Metal Building Project in Columbus, OH Today!
Are you interested in ordering a pre-fabricated metal building?  Champion Buildings provides high-quality metal and sheet buildings in Ohio including Cleveland, Akron, Canton, Youngstown, Cincinnati, Dayton, and Columbus OH. For more information or to purchase your metal building contact Champion Buildings at
(800) 942-6812
. Providing quality metal buildings at an affordable price to the South & Mid-Atlantic:
Alabama
, 
North Carolina
,
South Carolina
,
Georgia
,
Virginia
,
Tennessee
, Ohio,
Maryland
and more!