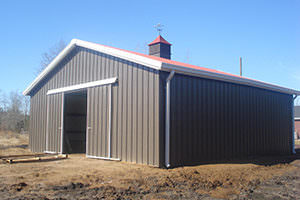 At Champion Buildings, we have years of experience working on residential and commercial Tennessee metal building projects. We provide everything from prefabricated metal buildings to agricultural buildings.
Our experienced steel building experts can help you get setup with a building that will be the right fit for your project and meet your needs.
Metal Buildings with Concrete in Johnson City
When you decide to work with us, we will come to your location in Johnson City. You will not have to worry about anything for your metal building, we take care of everything from laying the cement to building the metal building.
Our process includes clearing the plot of land, measuring and leveling the foundation, pouring the concrete base, and finally erecting the metal building.
We start off your project by clearing the plot of land that you want your metal building built on by removing obstacles such as trees or debris. This will allow us to work on a cleared piece of land for proper structuring. We then would measure and level the land to have an optimal flat surface to build on.
Take a look at some of our metal building specials, or contact us to get started with your Johnson City metal building project today!
Contact us for an estimate for Metal Buildings in Johnson City
Are you interested in getting a pre-fabricated metal building? Champion Buildings provides metal buildings in all of Tennessee including Knoxville, Chattanooga, Johnson City, Memphis and other surrounding areas.  For more information or to purchase your metal building contact Champion Buildings at (800) 942-6812. Providing quality metal buildings at an affordable price to the Mid-Atlantic: North Carolina, South Carolina, Georgia, Virginia, Tennessee, Florida, Maryland, Ohio and more!