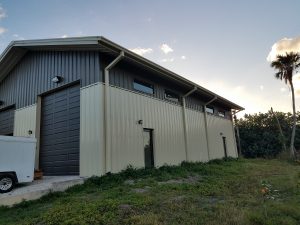 Looking to expand your business in Sandy Springs? Or, do you need shelter or storage areas to store your equipment during the rainy season? Champion Buildings provides metal and steel buildings to all of Georgia, to include, but not limited to, the following cities: Alpharetta, Marietta, Sandy Springs, Athens, Macon, Warner Robins, Columbus, Augusta, and more! 
With many years of experience installing quality metal and steel buildings, contact Champion Buildings at (800) 942-6812 and find out how they can serve your commercial or storage needs.
---
Request A Free Quote On Our Metal Buildings
---
Benefits of Steel and Metal Buildings in Sandy Springs
There are many reasons that people decide to get metal buildings as opposed to traditional buildings. Yet, there are a few common reasons that people note:
Metal Buildings are Affordable
Metal Buildings Are Durable
Steel and Metal Buildings Require Very Little Maintenance
Along with being affordable, fire resistant, and durable, you don't have to worry about maintaining your metal building, aside from a few inspections a year and washing it once or twice a year for aesthetics.
All-In-One Metal Building Services at Champion Buildings
While many companies will require you to have the concrete slab down before they will come to erect a metal building, Champion Buildings is different. Instead of having to hire a company to lay the concrete or do it yourself, Champion Buildings offers an all-in-one solution for your metal building project. We do the installation, concrete, and metal building construction so that you don't have to worry or spend your time coordinating between contractors. Champion Buildings is also available to help you decide what building features, as well as metal building size, will be best for your business or individual needs.
Metal Buildings with Concrete in Sandy Springs
When you choose to purchase a metal building from Champion Buildings, you not only get a high-quality building, you get an all included service. We are here from start to finish and the best part– we do all the hard stuff. Unlike our competitors, we do everything from laying the cement foundation to constructing the building. All you have to do is decide what building you want and where you want it! Check out our current metal building specials to ensure that you are getting the best price possible! We are eager to help you achieve your metal building goals.
Contact Us Today For Your Metal Building!
Are you interested in getting a pre-fabricated metal building? For more information or to purchase your metal building contact Champion Buildings at (800) 942-6812. Providing quality metal buildings at an affordable price to the Mid-Atlantic: North Carolina, South Carolina, Georgia, Virginia, Tennessee, and more!